Advertisement
Featured article
The power of pomegranates
Pomegranate juice - healthy and delicious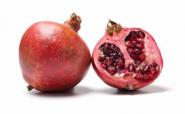 You might have seen in the shops and supermarkets the increasing appearance of pomegranate juice. More popularly known in cocktails and Middle Eastern cookery, it has been fast making its way as a health food and part of the 5-a-day quota of fruit/veg.
The health benefits are considerable. New research has shown that a daily glass of pomegranate juice can hold back prostate cancer and could even prevent men dying of the disease.
Last year US researchers at the University of Wisconsin showed that pomegranate juice dramatically slows down prostate cancer in mice. Prostate cancer patients who have short doubling times (the time taken for the tumour to double in size) are more likely to die from their illness, and the average doubling time for the disease is about 15 months. But drinking pomegranate juice extended this period to 54 months - an almost four-fold increase.
article continued
Advertisement
And for the rest of us who just want to maintain our health, what are the benefits? Well, pomengranates contain more anti-oxidants than any other fruit and 3 times the anti-oxidant power of green tea or red wine. In USA, studies on heart disease patients showed that taking the juice every day increased blood flow to the heart. It can help lower cholesterol and is a rich source of vitamin C and folic acid.
There are different varieties of pomengranate juice; the naturally sweet ones which don't require you to add sugar, and concentrates which you may have to dilute. Then there are the bitter varieties which are usually used for cooking.
So now, along with your lemon juice and water to help cleanse your insides and prune juice to 'help it all flow', you can add pomegranate juice to help your heart and prostate!
About the Author
Doreen has had a passion for massage since she was 15 years old. She still has that passion, and offers massage, specialist facials and other beauty treatments in her home-based salon in Surrey. With any energy left over she will devour all the beauty pages of all the magazines she can lay her hands on!
Doreen's homepage: Bellessence
Related articles
Don't make a decision you'll regret
Walking, aerobics, weights - so much to pick from
What they are and what you need to know
Top Stories
A shower gel that feels great, smells great, and nourishes your skin
Simple tips for avoiding those big beauty mistakes
How to burn more fat during your cardio workout
Advertisement