Advertisement
Featured article
A guide to wrinkle fillers - the alternatives to collagen
Collagen has many rivals these days, this article tells you what's what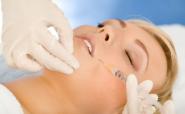 In the late 1980s plastic surgeons and the public were introduced to a new concept, filling in wrinkles with collagen. Collagen came from cows and was treated to make it inert so that it could be safely injected into humans.
It worked, but had several significant drawbacks. Since it was an animal protein, there was the risk of an immune response. Anyone who desired collagen injections was skin tested and waited weeks to make sure they didn't react to the treated protein. In addition, collagen was expensive and only lasted up to several months. For many years this was all that was available to the plastic surgeon in the realm of fillers.
However in recent times several new fillers have come onto the market, and it can be difficult for patients to know which product is best for their needs. Here is a run down on the most popular fillers:
article continued
Advertisement
Hyaluronic acid based fillers (Restylane, Perlane, Juvaderm, Elevess)
Calcium hydroxlyapatite fillers (Radiesse)
Human and animal based collagen (Cosmoderm, Cosmoplast, Artefil)
Others (Sculptra, Silicone)
Restylane
Restylane was introduced for use around the mouth after FDA approval in 2003. It was innovative in that it didn't require a skin test for allergies like the old bovine collagen fillers. This hyaluronic acid gel is based on the same hyaluronic acid in the human body, thus reducing the risk of side effects. Youthful skin has lots of hyaluronic acid which helps plump up the skin, but we lose it as we age. Restylane helps restore that volume. It can be injected into the fine lines or deep folds of the face, as well as the lips. With over 1.4 million people who have already received this treatment, it is popular because there's minimal down time and the results can be seen immediately. Although it has been proven clinically safe to use, those with severe allergies should avoid the use of Restylane. It normally lasts between six months to one year.
Perlane
Perlane entered the market in May of 2007. Also a hyaluronic preparation, Perlane is similar to Restylane, but slightly thicker. It is intended for injection into the deeper layers of the skin. The FDA approved of its use for mild to moderate lines around the mouth. Although clinical studies of Perlane have shown no allergic reactions, it should not be used by anyone who has had previous severe allergies. Pregnant or nursing women should also avoid use of Perlane. It lasts approximately eight months to one year.
Juvaderm
Juvaderm Ultra and Juvaderm Ultra Plus are also hyaluronic acid fillers that are FDA approved for cosmetic purposes. Ultra is used on very fine lines, while Ultra Plus, dense and thicker in consistency, is made for the deeper lines and folds of the face. The duration for both is about eight months to one year.
Elevess
Elevess is a relative newcomer to the field of hyaluronic acid fillers, but it comes in a higher concentration, which adds to its durability. It also contains lidocaine, a local anesthetic that improves patient comfort during injection. Elevess was created to be injected in the mid to deep layers of the skin, thereby alleviating the moderate to severe folds and lines, such as those around the nose and cheeks. Patients with severe allergies should not use Elevess.
Radiesse
This water-based gel with suspended calcium particles is made of a chemical called hydroxylapatite, which is compatible with the bioidentical substance in our bodies. It does not require a skin test. Perfect for facial contouring and for plumping the deep folds of the skin, Radiesse will usually remain in place for ten to fourteen months. Because Radiesse is white in color, it cannot be used in the lips or for fine lines that require injections close to the skin surface. The white color would show through the skin layers.
Cosmoderm and Cosmoplast
Made from purified human based collagen, these fillers are FDA approved and can be injected without a skin test. They come mixed with a local anesthetic, and therefore are less painful to inject. Both fillers are very pliable, which leaves a natural looking result. Cosmoderm works best on the fine lines around the eyes and the vertical lines above the lips. Cosmoplast, a more dense filler, works in the deeper lines of the face and the furrows between the eyes. Although Cosmoderm and Cosmoplast are less expensive than the other fillers, they don't last as long. The collagen is absorbed and wrinkles can return within three to six months.
Artefil
Collagen is the main protein found in connective tissue, but Artefil comes from bovine collagen, which requires skin testing before it can be injected. The advantage to Artefil is that it contains microscopic spheres that develop a matrix for your own body's collagen to grow on. Unlike the other fillers that are reabsorbed into the body, this filler is permanent. That's both the good news and bad news. If you like your result, it's permanent. If you don't like your result, it's still permanent. Artefil is also more expensive than the other fillers.
Sculptra
Different than all the other fillers is Sculptra, made of poly-L-lactic acid. It was created not to fill in wrinkles, but to increase volume in hollow cheeks, sunken eyes and facial folds. Approved by the FDA for medical use, it is most often used in AIDS patients who lose facial contour due to loss of facial fat. This synthetic material lasts up to 2 years, but needs initial maintenance to get an outcome that is satisfactory.
Silicone
The FDA does not condone Silicone injection for the treatment of facial lines and defects. There is a silicone preparation available to ophthalmologists to be used in the treatment of eye disease, but some doctors use this preparation for treatment of facial lines contrary to the recommendations of the FDA.
Verdict
Facial fillers have been around for a relatively short period of time. Their biggest drawback right now is their temporary nature. I believe we will see many changes and enhancements in the future. I expect that in the next several years longer lasting, or even permanent fillers will be developed.
Related Articles:
About the Author
Dr. Corwin has been practicing Plastic and Reconstructive Surgery in the Conejo Valley since 1977 and specializes in cosmetic surgery
Theodore R.'s homepage: DoctorCorwin.com
Related articles
A guide to Botox treatments - the dangers and the benefits
An introduction to a non-surgical cosmetic procedure for younger-looking skin
The key differences between saline and silicone explained
Top Stories
A review of home gym gizmos
Explained: the similarities and differences between body glows and self-tanners
Loot your kitchen for great natural skin care products
Advertisement