Advertisement
Featured article
Choosing the right colors in fashion and makeup
Are you a spring, summer, fall or winter woman?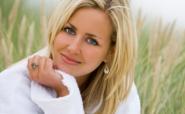 Color plays an important part in so many aspects of life; it has a key role in the way businesses market themselves and their products, it impacts the decorating methods and styles that we choose. Is it any wonder, then, that it also has an impact on how women feel about themselves too?
The choice of a wrong color can doom a woman to a day of complete drudgery, while the right one can help close the deal on anything she has in mind. Color holds that kind of power – for the woman who knows how to harness it and use it wisely.
Contrary to popular belief, most women can wear any color they want, if they choose the right shade. Blondes can wear white. Redheads can wear pink. The key isn't just in the color but in the pigment choice itself. That is particularly true when a woman decides to alter what Mother Nature gave her.
article continued
Advertisement
Skin color - your natural undertone
It all starts with skin color. Skin generally has one of two undertones; one natural undertone is pink, the other is golden. It has nothing to do with the actual color of the skin itself, but everything to do with the tones than can be seen beneath it. Someone with olive or dark skin can still have pink undertones just as someone with peaches and cream skin can have golden undertones.
Some pink undertones are solidly pink, while others also have a touch of blue. That makes a difference when determining if the skin considered "summer" or "winter" in nature. Winter women are usually dark in coloring with regard to both hair and eyes. Summer women, on the other hand, lean toward light brown or blonde hair and are paler in eye color. They can wear colors that are softer or most pastel in tone, whereas bright colors are their enemy.
Golden undertones can skew from a lighter yellow to a deep, rich gold. The difference in tone indicates whether a woman is "spring" or "fall." Spring women have lighter undertones of yellow or gold in their pale skin. Their hair may be golden blonde or red and their eyes are usually green, gray, blue, either pure or in combination. Autumn women, on the other hand, have deeper golden skin tones, rich red or brunette hair, and may sport beautiful brown eyes.
Spring, summer, fall and winter women
My daughter is a winter woman. She has deep brown hair, hazel eyes and olive skin. The colors that work best on her are crisp, clear shades like black, white, deep berry red, coral orange, bright green and hot pink. Anything that is too pastel or subdued doesn't work for her at all.
My mother is a fall woman. She has deep auburn hair and green eyes. She looks best in warmer colors like pumpkin orange, gold, camel, olive green and deep brown. She rightly chooses beige over white and stays away from deep blues and black.
I am a spring woman with strawberry blonde hair and green/blue eyes. I tend to look good in pale corals, creamy peaches, golden yellows and lighter browns. Dark colors wash me out and make me look older than my years. Black and white are absolutely my worst colors.
My best friend is a summer woman. She has light brown hair and pale gray eyes. She can wear neutral tones, soft pastels and anything with a hint or pink or blue like lavender, rose and spring green. Bright colors, on the other hand, are not her cup of tea.
Makeup colors
When it comes to makeup, the same basics apply. Winter women can wear intense colors, and can pull off a deep red lipstick like no one else. They can also opt for bright pinks and vibrant mauves or deep plums. Additionally, because they tend to have darker eyes, they can wear heavily pigmented charcoal gray, navy, deep berry and even purple when it comes to shadows. Black liners are often a must-have color for these striking beauties.
Summer women can blend into the background if they aren't careful; since their coloring is so soft and natural, they won't stand out without some effort. However, many summers prefer it that way - big and bold may not be their way in fashion or in makeup. They look best in taupe browns, dove grays, pale orchids and soft greens in eye shadows, muted brown for liners, and their lips should remain natural in blue-based mauves, pinks and plums.
It is easy for spring women to find their right colors. All they have to do is take a look at nature in the spring; bright blues, rose pinks, grass greens and soft browns are perfect colors for their eyes. Liners should accent the shadow color and springs should avoid anything too dark like navy or black. When it comes to lips, they should reach for rose pinks, soft corals and peaches, rich cinnamon and bright berries. They should steer clear of earthy, rich browns for lips - too dark and foreboding for these bright and playful women!
Fall women, like their spring counterparts, can turn to the fall season to see which colors will best suit them. Earth tones are perfect for eyes and lips. Deep charcoals, rich greens, perfect peaches and pinks and all shades of brown work for the eyes, both in shadows. While autumns may be able to pull off a black liner, in truth black brown or deep taupe works even better. For the lips, fall women should look for corals, oranges, pinks and browns with a yellow base.
Having said all that, women are free to wear any color they choose – but hopefully these guidelines will help some choose right, making the difference from feeling ho-hum to being drop dead gorgeous.
About the Author
Charlie has over 25 years business experience in various fields, having worked in food service management, floral design, business development and management, marketing, and training. She has authored several business handbooks, developed, edited, and produced content for multiple newsletters, and writes poetry.
Charlotte's homepage: Charlie's bio
Related articles
Why you should avoid cosmetics overload
Great beauty goodie suggestions
Simple tips for avoiding those big beauty mistakes
Top Stories
Why pale is the place to be
Beauty and fashion horrors of past and present
A foundation that blends to match your skin tone
Advertisement