Advertisement
Featured article
A guide to popular non-surgical cosmetic procedures
Botox, collagen, peels and the rest - what are they, and how much do they cost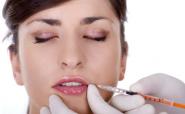 In a world that is becoming increasingly obsessed with youth and beauty, for many people the question is when, not if, they will use non-surgical cosmetic procedures. Some people may even indulge in multiple such procedures.
While some non-surgical cosmetic procedures are seen as benign, the truth is that all have some form of risk attached to them, and many are seriously costly. The more popular cosmetic procedures are the ones seen to be more cost-effective; partly because they are less painful and heal quicker; and partly because of the end result. These include the following:
Botox injections
Collagen injections
Chemical peels
Microderm abrasion
Muscle shock treatments
Botox Injections
Botox injections continue to be popular among certain individuals who don't believe that skin treatments will make a big enough difference in their fine lines and wrinkles. Most people are now aware that botox is a derivative of botulism, a highly toxic poison than can be deadly in certain situations. Botox is injected underneath the skin of wrinkled areas to paralyze the underlying muscles, flattening out the covering skin to give a smoother appearance.
article continued
Advertisement
The injections are most often used in the eleven shaped creases that develop between the eyebrows, on forehead lines, and in crow's feet, but they can be used in other areas of the face as well. The procedure takes about 30 to 45 minutes and usually takes maximum effect within a couple of weeks. The bad news is that the procedure only lasts for about six months and then it is time to start the process all over again.
Pain wise, the procedure is relatively mild, only stinging for a second as the needle punctures the skin. Usually, the only side effect is a slight redness around the injection area. However, individuals who tend to bruise easily may experience some bruising for one to three days.
The cost for botox injections ranges from about $300 to $600 per injection. That means if you are having four areas on your face done, the cost will range between $1200 and $2400 every six months or so.
While the side effects of botox tend to be downplayed, the truth is that a slip of the needle can cause a myriad of problems, from a dropping eyelid to turning a smile into a long-term frown. Additionally, botox injections can, if overdoen, make the face look strange when you try to smile or laugh.
Collagen Injections
Also popular are collagen injections, which are most often used to plump up fading lips. They are also effective in plumping up forehead furrows and in the puppet lines around the mouth.
The newest forms of collagen, synthetic in nature, are far less likely to cause allergic reactions than those used about 10 years ago, though that risk still exists. Collagen injections are about as painful as botox injections. The pain is short-term, and again, those who tend to bruise easily may experience a little bit of black and blue for a day or two.
The procedure generally takes between one and two hours. Results can be seen almost immediately and most collagen injections will last for anywhere between three to six months. The cost is roughly the same as that of botox injections, averaging anywhere between $300 and $800 per site.
Chemical Peels
Chemical peels are used to remove the top layer of dead skin from the facial area. They are especially helpful for those individuals who suffer from skin problems like acne, dark pigmentation, blotchy looking skin, and dull looking skin.
The process generally involves a light layer of a special type of acid that is diluted by as much as 50 to 80 percent. The process doesn't take long; only about 15 or 20 minutes maximum. Some forms of acid peels take much less time than that.
The sensation given by the peel is a slight burning similar to that experienced from staying out in the sun too long. Once the peel is removed, the skin may be slightly pink or even red for several days. In some instances, some individuals will find their skin somewhat scaly. However, that will also diminish and go away within a short period of time. Although rare, it is possible to obtain a fairly severe burn from a chemical peel.
The cost of chemical peels averages between about $200 and $500, depending upon the specific type of peel involved and, of course, the physician doing the procedure. Unfortunately, they will need to be repeated regularly, making the cost thousands of dollars within any given year.
Microderm abrasion
Microderm abrasion is probably the single most popular non-surgical cosmetic procedure taking place across the world today. Once a procedure that was only performed in a physician's office, microderm abrasion can now be done in the comfort of your own home, albeit on a slightly smaller scale.
In this procedure, crystals are mixed with a skin cream and applied via a rotating tool. The device massages the crystalline cream into the skin to help gently slough off dead skin cells from the facial area. It is helpful to those with pigmentation problems, dull-looking skin, and in some instances even useful for those suffering from acne scars. Done in the doctor's office, the procedure takes roughly 30 minutes. At home, most of the portable microderm abrasion systems can be completed in as little as about 10 minutes.
In some instances, the crystals can cause redness that looks a bit like a sunburn and some irritation or scratchiness in its wake. This will generally pass fairly quickly. However, if the procedure is done too roughly it can cause damage to the outer layer of skin, causing a painful reaction.
The cost of microderm abrasion in the doctor's office will run between $100 and $300 per treatment. Treatments will need to be repeated on a very regular basis; as much as once a week. Done at home, portable microderm abrasion systems range between $40 and $350 and can be used two to three times a week after the break in period.
Muscle Shock treatments
Another non-surgical cosmetic procedure attempts to rebuild or "plump up" the underlying facial muscles with very light shock treatments. The extra benefit of such treatments is that you can somewhat sculpt your face by plumping up particular muscle areas like those around the cheek bones, on the forehead, or around the jaw line. Such procedures are done by plastic surgeons, in some beauty spas, and can even be done at home with portable machines like Suzanne Somers' FaceMaster.
There is a slight tingling feeling to the shock treatments. If it is too strong the treatment needs to be scaled back; luckily with this treatment that is easily accomplished. There should not be any side effects to this process if done correctly. However, if the electric shocks are excessive and you don't get your physician to make the adjustment, there is an outside chance of temporary irritation of muscle tissue. Even then, the effects should pass within hours.
In-office treatments need to be repeated at least three times a week, and at anywhere from $200 to $500 per treatment they can be expensive. On the other hand, the cost of a portable at home machine like the FaceMaster is less than $100 and will last for years to come. At home treatments can then be done every day if you so choose. You can also choose to refresh certain areas of the face on an as-needed basis, to achieve your own customized program.
And finally…
There are dozens of other cosmetic procedures, many of which are growing in popularity with each passing year. These include laser work, light source collagen building, and dermaplaning. Watch this space for further articles on the topic!
Related Articles:
Related articles
What colonic hydrotherapy is and what it can do for you
A new beauty trend to fight the signs of age
How extra vitamins can make for beautiful skin and hair
Top Stories
Get extra value from your makeup with these tips
The dangerous chemicals in beauty products and how to avoid them
From Daus to Wieck, who's who in the world of fashion jewelry
Advertisement