Advertisement
Featured article
Surround yourself with beautiful, pure scents
Not all aromatherapy oils or fragranced candles are the real deal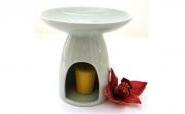 I am not renowned for my sense of smell. However, being an aromatherapist, I feel literally nauseous when I catch a whiff of a room freshener or smelly spray. I once went to a party where the hostess had gone to some trouble to create the glowing, warm atmosphere she desired. Unfortunately she used a candle burner with something which was not remotely like an essential oil. I couldn't stay long.
The term 'aromatherapy' is used quite loosely nowadays. Aromatherapy is a complementary system of treating a person's health with pure plant oils; this can be in the form of a massage with essential oils diluted into a carrier oil, such as almond oil, or through the sense of smell, as with candles. Nowadays we see it in relation to household products, such as washing powders, soaps and room fragrances.
The manufacturers who do not state that their products contain pure essential oils are using a mixture which may include some extract of plant, plus other synthetic chemicals to 'stretch' the product so that it is cheap for mass production. However, some reputable aromatherapy suppliers state that these adulterated and synthetic oils do not have therapeutic qualities and may even cause allergies and irritation. Commercially produced aromatherapy infused plug-ins and room sprays I find are a far-off imitation of the real scent.
article continued
Advertisement
For me, it's a no-brainer. Why use something which has been chemically altered as opposed to a pure extract from plants produced by nature? Mother Nature will always come out on top. I know if I'm feeling unwell, I will always reach for a pure lemongrass or tea tree oil to kill bacteria and clear sinuses. A synthetic version wouldn't even be considered! Fragrancing a room with pure essential oils is easy and, to some extent, recyclable as well. Many gift shops and even charity shops sell oil burners where the candles sit in a stand under a basin which you fill with water and a few drops of your chosen oil. The oil continues to permeate for as long as and even after the candle has burned. A note for the men: because the candle flame does not directly aim towards the ceiling, there is less chance of dark marks.
If burning a candle is not a safe option, there are other choices such as an oil burner which sits on a ceiling lamp or a radiator; they work in the same way as the candle burner but the heat comes from the electrical implement. One of my favourites and which uses no heat at all is an oil diffuser. The oils are placed on a pad inside the diffuser which you plug in, switch on and cool air radiates through the mat, so dispersing the fragrance.
Candles have been used for centuries and they are still a favourite, especially the fragranced versions. But it's the price which will reflect the quality; a candle infused with pure essential oils will have a high price tag, the cheaper one having been laced with chemicals to imitate the natural scent. There are many good quality candles available made with TLC and an excellent fragrance but just don't skimp. Yankee Candles, Culpeper and Eve Taylor are among some of the superior fragranced candle suppliers.
If you're put off the price, then opt for one of the alternatives above, or burn an un-fragranced candle for cosy effect alongside a pure fragranced method. In terms of cost, a 5ml essential oil could set you back anything from £3 to £10 depending on which one you choose, and will come in a dark glass bottle which you can recycle later. An oil burner might be £12 up to £27 for an air diffuser and is re-usable countless times. I've had mine for almost 10 years and they're still great!
For the purists among you, beeswax and soy candles are environmentally friendly alternatives to standard wax candles. Beeswax helps clean the air and organic soy candles are made from renewable sources and are bio-degradable, whereas standard wax candles are petroleum based, a non-renewable source.
If you're perplexed as to what oils to choose, ask an aromatherapist. Otherwise, you can buy an essential oil blend which will contain popular oils already mixed together in optimum quantities. If you buy an aromatherapy blend which has the essential oils diluted in a carrier oil, this is rather like buying a massage oil. You can of course use it on your skin, but is not the best option for an oil burner as the fragrance is diluted and you're basically paying for a fragranced carrier oil. Most good websites will give a good description of what therapeutic qualities their essential oils and blends contain.
Here are some recommended websites:
Related Articles:
About the Author
Doreen has had a passion for massage since she was 15 years old. She still has that passion, and offers massage, specialist facials and other beauty treatments in her home-based salon in Surrey. With any energy left over she will devour all the beauty pages of all the magazines she can lay her hands on!
Doreen's homepage: Bellessence
Related articles
Tips for the pregnant woman for essential oils and aroma massage
Which essential oils can help with birth and how to use them
Heal birth wounds and beat post-natal stress and insomnia with essential oils
Top Stories
Pick the product to look great and avoid hair damage
A review of a hand cream designed to protect older skin
Eating advice from the East
Advertisement