Advertisement
Featured article
Giving birth with aromatherapy
Which essential oils can help with birth and how to use them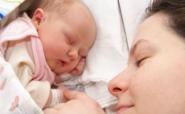 Using aromatherapy during birth is becoming more and more popular. This article will examine which oils can be used, where to get them and how to apply them. But before putting any of this into your birth plan, you must check with your midwife that he/she is happy to allow it. And remember to use the oils cautiously; they have a strong effect on the mind and body and should not be used in excess!
Essential oils you can use during birth
Rose otto (rosa damascena), also known as rose damask or Bulgarian rose, has many recognised actions on the body and is a favourite with aromatherapists for use on females in general. Physiologically, it balances the hormones, calms the nerves and has a strong affinity with the female reproductive system. It is to be avoided during the 1st and 2nd trimesters because of its emmanagogue action (bringing on menstruation), but if your pregnancy is progressing well AND your midwife agrees to it, you may use it during the 3rd trimester. Rose otto aids elasticity and, blended in a carrier oil, can be massaged into the perineum in the last few weeks. The same action can be performed during labour. Rose otto is also good for strengthening the womb and the Braxton Hicks contractions. (I can only think you would want the latter to give you good practice for the real thing!) The down side is that rose otto is a very expensive oil; expect to pay well over £20 for a 2.5ml bottle. Bulgarian rose is usually the most expensive since it is considered superior for its perfume. Cabbage rose (rosa centifolia), also known as rose maroc or rose de mai, is a slightly cheaper alternative to rose otto. There is very little difference between the two in terms of therapeutic indications. That said, cabbage rose is harder to find.
Clary sage (salvia sclarea), one of the oils you are strongly advised to stay away from during your pregnancy, can be extremely beneficial to you on the big day. It has a narcotic effect and can be used either blended into a carrier oil which your birth partner massages into your lower back, or in a warm compress pushed onto the lower abdomen or lower back – basically, where it hurts most. Another way to use it is to dab a couple of drops onto a face pad or tissue to hold to your nose/mouth when you need some relief. A good combination is clary sage with rose oil. This might be a substitute for gas and air. Just before you feel a contraction coming, breathe in deeply from your face pad, then after the contraction has passed, breathe in gently and rhythmically from the face pad.
article continued
Advertisement
Jasmine oil ( jasminum officinale) is a heavy, strongly scented oil and, for that reason should be used in small amounts. Another expensive oil (though not as costly as rose otto) it can be useful at the final stage of labour where there is no risk to the baby, and you want the baby to move out. It helps to calm the labour pains, but more than that, it can help with expulsion of the placenta.
A fourth oil which can be an aid to childbirth is lavender (lavandula angustifolia). This has mild sedative properties (although I found it to be heavily sedative when I was pregnant), it is a relaxant and it stimulates uterine contractions. From a study done in the midwifery group at the Ipswich Hospital in 1992, a lavender bath is recommended where 3-5 drops of lavender oil are dropped into a bath of water. The water is agitated to circulate the oil, which will evaporate within 15-20 minutes. The only safety precaution here is that there is potential access to the foetus, but this depends on when during the labour you take the bath. If you anticipate a water birth and want to use oils in the water, neat oils can cause corneal ulceration to the baby. I would advise that you ensure the oil is mixed in with a little carrier oil or milk before dispersing in water. Use up to 7 drops in two teaspoons of oil or milk.
How to use the oils
The essential oils, if used for massage, are blended into a carrier oil, at a maximum ration of 2 drops of essential oil to 5ml of carrier oil. As your senses will be heightened during the labour, you can reduce this to 1 drop of essential oil per 5ml of carrier. You must be precise with the measurements. The blend can then be massaged into the skin, favourite places being the back or the abdomen. If you can, try the soles of the feet, as oils can penetrate into the bloodstream very effectively through the feet. Be careful if you are walking about, as you could slip.
Putting oils onto a face pad or tissue as described above can be effective, as is using a compress. To make a compress add about 5 drops of essential oil to 500ml of warm water. Agitate the water to circulate the oil which will float around the surface, then dip in a face flannel, wring out and apply to the body.
You could put the oils in a burner so that the vapours are inhaled and enter the bloodstream in this way, but I would recommend you check with the people helping you as it could be awkward for anyone working in the delivery room.
Do remember that whatever method you choose, you will (hopefully) not be the only person in the room and so whatever affects you may also affect the other people near you. One final point, especially if you are massaging in oils, is not to overdo the scents – after all, you want your baby to smell the real you!
Post-natal
If you have sustained tears or cuts from the labour, lavender is a wonderful oil to help the healing process. Maggie Tisserand in her book "Aromatherapy for Women" recommends a sitz bath, also known as a hip bath where you sit yourself in a few inches of water in a bath or a special bowl used for this purpose. You can use 3-5 drops of lavender blended in milk or oil and added to warm water or a blend of cypress (2 drops) and lavender (3 drops). Cypress oil (cupressus sempervirens) is astringent and stimulates the blood vessels in the area to close over while lavender heals and encourages growth of new skin as well as providing an antiseptic action. This could be ideal to do regularly if you have suffered perineal trauma.
Another method is to use a compress. Use 8 drops of lavender oil to 50ml of cold water. Agitate gently, then lay several layers of gauze into the water, wring out and lay over the wound held in place with a sanitary pad. Repeat after 10-20 minutes. Gauze is better than a flannel as the water and essential oils soak in better. Layers are required to give thickness.
In the Ipswich Hospital study, lavender together with tea trea (melaleuca alternifolia) is recommended for infected wounds. Tea tree is an extremely strong antiseptic, it penetrates infected wounds and clears away excess pus; it is anti-viral, anti-fungal and anti-inflammatory. Tea tree can be used directly on the skin onto the infected area but I would still recommend it in a compress or sitz bath. The combination of lavender and tea tree is very powerful.
Where to get the oils
Here is a list of some carrier oils which are easily obtainable. The list is not exhaustive:
Grapeseed is an all-purpose oil, good for all skin types.
Almond is oilier, good for itchy skins.
Avocado, rich in vitamins A, B and D. Suits very dry skin and fatty areas. Better diluted.
Wheatgerm is very thick and must be diluted with a thinner oil such as grapeseed. 10% dilution. Rich in vitamin E, good for dry skin.
Peach kernel and apricot kernel are like almond oil but more expensive.
Evening primrose rich in GLA (gamma linoleic acids) so good for dry skins and premature ageing. Quite thick so should be diluted, 10% dilution.
Olive oil a bit similar to almond but strong odour.
Essential oils are used in such small quantities that I think it is worth getting the best quality. I have put the Latin names in brackets for all the oils talked about. When you buy, you should look for this name to ensure that you are getting the correct oil. Some good suppliers that sell to the public mail order are Eve Taylor, Tisserand, Cariad, Penny Price, Mother Earth, Purple Flame, Natural Touch.
Sources
Aromatherapy for Women - Maggie Tisserand
Aromatherapy Workbook - Shirley Price
Practice Group Midwifery, Gynacology & Neo-natal care on using aromatherapy - Ipswich Hospital 1992
Related Articles:
About the Author
Doreen has had a passion for massage since she was 15 years old. She still has that passion, and offers massage, specialist facials and other beauty treatments in her home-based salon in Surrey. With any energy left over she will devour all the beauty pages of all the magazines she can lay her hands on!
Doreen's homepage: Bellessence
Related articles
Not all aromatherapy oils or fragranced candles are the real deal
Tips for the pregnant woman for essential oils and aroma massage
How you can stay looking and feeling good while pregnant
Top Stories
The different types of massage oil compared
What to think about when changing from a long to a short hairstyle
Essential maintenance advice for tanning beds
Advertisement