Advertisement
Featured article
Fashion trends for Fall 2009
What's in and what's out this autumn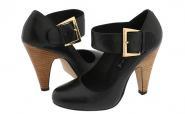 Trends for Fall 2009 aren't significantly different from the first part of the year. Color is still key, although pastels will definitely give way to bolder, earthier shades. The summer's key limes will turn into rich olives. Pale lavenders will move into royal purples. Even pinks will step up their game, turning smoldering hot in shades from fuschia to berry. Look for red to remain very strong, although it may take on deeper blue tones instead of the more tomato shades that have often been more popular.
Yellow in the fall is a slightly deeper shade of the same color. Oranges, which flatter almost any skin tone, will keep the beautiful coral colors they have enjoyed throughout the year. However, look for some to even turn into more of a "burnt sienna."
Warm cream tones, taupes, and iron grays will serve as neutral shades for the fall palette. Also look for a deep blue; not navy but a more unusual mixture of royal blue with gray. Of course, off white and black will continue to find their places among every wardrobe. Classic black and white remains as strong as ever. A few brighter, more color saturated neon shades of yellow, pink, orange, green, and blue may carry over from summer to fall. However, look for those to be found more in accessories than a lot of actual fashion pieces.
article continued
Advertisement
The shoulder pad is back and bigger than ever. However, this year's pads will mostly be confined to highly structured dresses, suits, jackets and coats. Blouses will remain romantic with softer lines and lots of draping, shirring, and pleating to accent a woman's body. Wrap fronts in both shirts and dresses will hide a myriad of figure flaws in order to give women more self-confidence and drama.
Layers will continue but will be more put together to express an entire style rather than just for fun. Slim silhouettes replace the more evened out ones of recent years, which means that the skinny jean will continue to be strong, as will leggings and pants that are cut close to the body. Tight fitting pencil skirts will find their way into just about every woman's wardrobe. The length, however, will vary depending upon the woman's own style and personal taste. Some will border on minis, while others will hit around the knee, mid calf or even slightly below.
Metallics continue to be strong, with a heavy emphasis on the white-hot shades of silver, platinum, and stainless steel. Leather isn't going anywhere either, although suede will likely take a backseat to the more traditional leather look. Patent also continues to grow in popularity as well but only as an accent piece, not as an entire garment or shoe. Look for a wide variety of leather options in skirts and pants as well as full suits.
The bold prints and geometric forms that became popular this past spring and that continued throughout the summer will flow right into fall. But that doesn't mean that animal prints are going to take a backseat - far from it, they are being reinvented in unusual sizes, shapes and colors. Look for huge blue giraffe prints, red zebras, and green or purple leopards. Plaids will join in the mixture as winter takes hold. And fun prints won't be confined to shirts, dresses, or jackets; they will find their way onto the bottom half of the body as well. Punch and pizzazz is the order of the season, and that will be carried out through pattern and color.
Rompers, knickers, and cargo pants will be present and dresses will continue to make an impact as well. The accent will be on the waist, making a woman look as feminine and as sexy as possible. Look for vests, jackets and coats to be key fashion pieces, although no longer confined to standard neutral colors or only to certain fabrics. Beautiful faux furs will offer women more coat varieties than ever before, and they will also take on new, unusual colors and shapes, including the old fashioned fur stole. Luscious leather vests, jackets and coats, both real and fake, will became a wardrobe standard, as will cashmere sweaters in all lengths and designs.
Boots will take on a whole new meaning in 2009. Ankle boots, sometimes called "shooties", will be very strong but so will knee high models and even those that caress the thigh. Boot jewelry and adornment will also remain popular, with more of a lean toward metallic chain accents and crystals than beading or embroidery. Boots will come in all styles as well including elaborate cutouts that mimic this year's hot gladiator sandals.
Shoes will take on lots of different looks, from the classic Mary Jane to a modern version of the gladiator style. There will be high heels that are both stacked and stiletoed to the very max. Toe boxes will be rounded, squared, and pointed to fit the desires of a wide variety of women. Anything goes as long as it looks classic, edgy, or ultra chic.
Handbags will be the most important accessory for this fall. Look for them to be heavily adorned with studs, beads, and jeweled accessories, for unusual shapes, and for all sizes from wallet to tote. There will be ruffles, fringe, pleats, and metallics as well as leather, furs, and other unusual fabric blends and microfibers.
Jewelry will remain as important as always, although the accent may be less on the "bling" factor and more on the edgy design. Bold cuffs still rule the roost as do large medallions, big hoops, and long beads.
Hats will once again become chic and although not all women will wear them, there will be enough edgy females out there to spice of the fashion world. Look for lots of feather adornment. Gloves will also make a big return this year and they will come in different lengths, from short all the way to the upper mid part of the arm. Fabrics will range from silks and satins to cottons and linens as well as wools, knits, and of course leather.
Almost anything goes in 2009 as women try to define their own style rather than copy someone else's. That makes fashion fun again and women will embrace the opportunity to establish themselves in the forefront.
Related articles
Big hair from Dynasty to Madonna
We women push size zero standards on ourselves
Stay fashionable in 2011 without breaking the bank
Top Stories
From canteloupe skin cream to bananas for your hair
For beautiful-looking lips you'll find the ColorStay Overtime LipColor hard to beat
The ingredients of moisturizers and what they do
Advertisement