Advertisement
Featured article
When you can't buy something new for that holiday party
Make a new outfit out of what you already have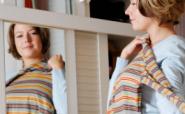 We've all been there. We have a party to go to but can't afford, or don't want, to buy a new outfit to wear. So what do we do? The answer is to think outside of the box, scour the closet to find same good basic pieces and put them together to make an outfit that looks new!
Find a top and bottom
Start with something that you love because of the way it fits. It could be a sexy top, a pair of pants that hug every curve, or a flirty skirt. The item can be solid in color or some kind of print. Whatever it is, the point is to choose something that gives you a lot of confidence - if you feel good, you will automatically look even better.
Next choose a piece of clothing that will complete the ensemble. If your top is printed, look for a solid bottom. If the top is solid itself, be sure to choose a color for the bottom that either matches or coordinates. While you are certainly free to choose a patterned bottom, it isn't recommended since it will make the outfit much harder to accessorize, so try to keep the outfit as basic as possible, since that will make it easier to jazz up. Choose base colors like black, winter white, taupe, chocolate, or gray. Those are much easier to build upon.
article continued
Advertisement
Make some changes
Put the outfit on and look at yourself in the mirror to make sure you are happy with your starting point. If not, look for ways to improve the look. Perform some minor alterations if necessary. For example, you could narrow some wide-legged pants to make a more updated and sophisticated style. Change a blouse's length, making it shorter to accent the great fit of the pants. If making alternations isn't your thing, try switching out the tops or bottoms until you get something with you are comfortable with.
Shoes
Once you have the color and shape that you want for your outfit, it's time to think about shoes. Choose something classic like high heels, strappy metallic sandals, or a great pair of boots in a pattern or color that will accent your look. If you can't find something that works, think about dyeing a pair of shoes to match your outfit. Another option would be to add clip-ons or other décor to a pair of pumps. Better still, hand paint a design onto the shoes. It can be one that represents your personality or matches the print in your clothing.
Accessorize
Next, think about how to accessorize. Start with jewelry. If possible, choose something trendy and hot for the season, like long strands of extravagant-looking pearls or large bejeweled hoop earrings. Add a big cocktail ring on one or more fingers and/or pop on a big, bold cuff bracelet. Choose jewelry that accents the outfit in a different way from how you normally wear the various pieces. Get creative and fanciful in your choices; maybe even buying one or two choice pieces to achieve just the right look.
Think about adding a great belt to change the look of the outfit even more. Go for something of the moment like a sexy corset belt, a multi-charm chain belt, or a scarf tied asymmetrically on the body. If you don't want a belt, think about other accessories that could be added, such as a scarf around the neck or hips or throw a pashmina around the shoulders. Add a vest to add more shape to the top or top it off with a shrug. Try different accessories until you get a look that you like. The goal is make you feel like a million dollars.
Hair
Change the way you normally wear your hair to accent the outfit you have put together. For example, if the clothing says Bohemian chic, wear your hair in loose waves or gentle curls. If the look is vintage inspired, consider wearing your hair up in a mass of soft curls or back in a delicate chignon. Include some hair jewelry if you want or clip a flower behind one ear. But don't overdo the bling. Keep in mind that it is meant to accent, not to overpower. Make-up
Do something unusual with your make-up. Choose glimmering eye shadows or mix multiple colors together for a more dramatic look. Try some glittering body spray that also adds a delicate scent. Put on some false eyelashes so that your eyes stand out in a manner that says "come hither." Play around with different colors and applications until you achieve the right party look for you.
Go for it!
While all of us would love to purchase a new outfit for every event we attend, the truth is that most of us simply can't afford to do that. That is when it becomes time to use our wild imaginations to create something new and exciting. All it takes is a bit of time and a willingness to experiment.
Related articles
Big hair from Dynasty to Madonna
Find jeans with the fit you really want
A period of corsets and petticoats galore!
Top Stories
Fashion designers for the plus size woman
What to teach her and when
The different types of massage oil compared
Advertisement