Advertisement
Featured article
Fashion trends for summer 2009
Jumpsuits, tankinis, jungle prints and more!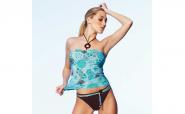 I subscribe to the theory that one should hold on to old fashions because if you wait long enough everything comes back in style. That can certainly be said for one of this summer's hottest fashion trends - the jumpsuit.
Although it has been redesigned and renamed more times than we care to think about, the jumpsuit seems to crop up about once a decade. It might be longer or shorter, looser or tighter, plainer or fancier than it was the last time around - but it always keeps cropping up.
You can call it a romper, a playsuit, a catsuit or anything else you want to as long as you add at least one jumpsuit to your summer fashion. Elle Magazine rates it THE most important piece of fashion for Summer 2009.
article continued
Advertisement
Jumpsuit fabrics will vary as much as the styles of the garments. There will surely be lots of denim for both day and evening, but that won't be all - also look for cool cottons, lightweight jersey knits, luscious peach skins, and even a few silks and satins.
Color, color, and more color is key this summer. However, it doesn't have to be solids, it can incorporate geometric designs, beautiful florals, and whimsical prints. There will be lots of options to choose from, whether you seek a daytime garment or something sexy and alluring for night. Look for a lot of sheer fabrics this year – many women will try pushing the envelope this year, not only in swimwear but across the board.
The bikini isn't going anywhere this summer, although the thong and string versions aren't likely to be as prevalent as in years past. Today's woman is looking for a swimsuit that fits and flatters her body but still leaves at least a little bit to the imagination.
Some women will opt for the tankini rather than its skimpier cousin. This newer swimsuit option still allows women to bare their midriffs if they so desire, but it gives them more options for mixing and matching with other bikini bottoms.
In truth, most swimsuits this summer will be mix and match. Gone are the days when the two-piece suit came together. Now women can show their own fashion flair by choosing different styles of tops and bottoms in colors, prints, florals, or solids. The advantage is that with just a few key pieces, dozens of different suits can be formed - after all, variety is the spice of life!
Last fall saw a revival of the flapper look of the 20s, with cute fringed skirts and sexy, flowing dresses. The look will carry over even through the summer for those fun and flirty cocktail dresses. However that isn't the only old style that is once again new and back in vogue; the Grecian look is hotter than ever with one-shoulder tops, dresses, and even swimsuits that are perfect for summer wear.
Jungle prints, once considered a passing phase, are now here to stay. Look for leopard, zebra, and giraffe prints to be an important part of fashion for 2009. Ethnic and tribal looks are also growing in popularity as individuals seek a way to get back to their roots at a very visceral level.
Also think romance for this year's fashion trends. Women are once again proud to be women and are leaning toward flowing garments that show off their luscious curves and unique feminine style. Delicate fabrics like chiffons, gauzes, silks, and satins will find their way into every woman's wardrobe one way or the other.
Summer fashion trends wouldn't be complete without shoes, and this year's hottest shoe trend is the gladiator sandal. From solid neutrals to unique croc and snake styles in various colors, plain and bejeweled, these shoes are a "must have" for any woman in the know. Ballet flats will also be popular but this year they will be studded, jeweled, and chained to add more interest and a touch of fetish.
Look for belts to make a resurgance as well. They may be reed thin or super wide; made from leather, cloth, or metal; come simply adorned or bejeweled to the hilt; and in colors from neutrals to ridiculous brights. Whatever and however they come, women will choose to wear them in order to show off their feminine assets.
Jewelry remains big and bold as well, with an emphasis on colored metals, ethnic designs, and popular opaque gems like turquoise, onyx, lapis, malachite, tiger's eye, and mother of pearl. Look for statement pieces in necklaces, cuffs, and rings that assure attention is given to the woman wearing them.
This year women want to be noticed and they will use their fashion sense to make sure they are. Summer 2009 isn't for the faint of heart. It's for the woman who knows who she is and what she wants, and with the help of fashion, she will obtain it all!
Related articles
A time of hippies and Twiggy, bell-bottoms and mini-skirts
A time of angel wing hair, paisley and the micro-mini
find out which body slimmer is best for you
Top Stories
Why and how to detox for better health
Look great without the expense and risk of surgery
Mid-year is as good as New Year for making a new you!
Advertisement