Advertisement
Featured article
Beauty product gift ideas for Christmas
Whether jewelry, fragrance or other beauty product, get the perfect Xmas gift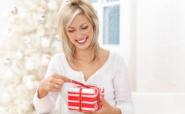 Christmas is just around the corner and many people are scrambling to find the perfect gift for the women in their lives. When it comes to women, certain items are almost always a sure bet, especially anything that enhances a woman's beauty. Who doesn't want to look beautiful every single day?
Jewelry
An obvious ever-popular gift for women is jewelry. Most women love it and would tell you that it is impossible to ever have enough. Good jewelry enhances a woman's skin, brings out the color or sparkle in her eyes, and makes her feel good – and when a woman feels good, she has an indescribable glow!
This holiday season there are a few jewelry items that are sure to be a hit with almost any woman. The first one is pearls. Whether it is a romantic choker, or pearls that cascade to opera length or beyond, the savvy woman of today longs for a pearl necklace. When in doubt about the color, always opt for cream, the classic color. For the more adventurous, some newer, trendy colors worth trying are chocolate, bronze, champagne, gold, and pink.
article continued
Advertisement
You cannot go wrong with gold jewelry of any kind. However, this particular holiday season the colors of gold, in particular rose and chocolate, are highly desirable. While this type of gold is most often set with precious gems like diamonds, there are a few jewelers also experimenting with CZs and created gemstones to keep the cost down without sacrificing beauty. Look for created pink sapphires, pink tourmaline, and clear stone options to set off those rose gold pieces. Chocolate colored CZs, citrine, and other burnished yellow gems set in chocolate gold will be popular.
Romantic pendants like the standard journey pendant or the updated heart shaped journey will take center stage this Christmas. Other popular pendant choices will include crosses, stars, and hearts. These jewelry choices can be set in gold, silver, or platinum and may come with or without stone accents. Most women will even appreciate the less expensive bonded or electroplated versions as long as the quality is good. After all, it really IS the thought that counts.
The old standards of a diamond tennis bracelet, diamond stud earrings, or an eternity ring won't be turned away, either. These pieces are classics that will continue to find their way onto women's Christmas wish lists for many years to come.
Fragrance
While some women don't wear fragrance, there are still plenty that do and they are always open to finding their favorite brand in a Christmas stocking. Whether the choice is to give them their signature fragrance or encourage them to try something new, they will be happy with the gift of scent in their Christmas stocking. Some of the anticipated fragrance hits this season will include:
Joy by Jean Patou
Live by Jennifer Lopez
Lovely by Sarah Jessica Parker
Vera Wang for Women by Vera Wang
With Love by Hillary Duff
Skin care products
A woman's favorite brand of skin care product (if you know what it is!) is almost always a safe bet. However, don't try to force her to try something new - most women are very particular about what they put on their skin. So snoop around to find the product line that she likes the most if your heart is set on that particular gift.
Moisturizing hand cream is always welcome and is one of the few skin products women are willing to experiment with. There are some remarkable choices to be found in a wide variety of scents. Perlier, one of the world's leading brands of this type of skin care, offers a huge selection of hand cream and matching body products in scents like Pink Peony, Lavender, Orchid, Gardenia, Black Rice and more.
Philosophy, another leader in the area, offers fresh scent options that even those women who don't normally wear scent will like. Their most popular line includes Pure Grace and Amazing Grace; soft fresh scents that are perfect for almost any woman. Luckily, they also come with a matching line of bath products for those who might be interested in a slightly larger gift idea.
Cosmetics
If you don't know what type of make-up that a woman prefers, purchasing cosmetics for Christmas may be risky! If you do know, say that she is a Bare Escentuals fan, then purchasing the line's newest make-up kit will likely be a huge hit. The other option would be to buy a sample kit from a major high-end manufacturer like Two Faced, MAC, or Urban Decay. Sample kits allow women to try a new line that she might not otherwise be able to afford. Since it is just a trial kit, she won't feel locked into using it if the product isn't to her liking.
Do your homework
The trick in purchasing beauty products of any kind is to do your homework. Ask her family members or friends what the lady is yearning for, and you'll be a big winner in the eyes of the special woman in your life when she opens her gift on Christmas morning!
Related articles
The different types of candle waxes and which to buy
A guide to which products do what they say
A value-for-money mascara, but does it do all it claims?
Top Stories
Build a collection you can wear forever
How to burn more fat during your cardio workout
A look at an era of rising hemlines, bobs, and Coco Chanel
Advertisement