Advertisement
Featured article
Tips for getting the most out of a hair straightener
How to use a hair straightener for a soft-looking, sleek hairstyle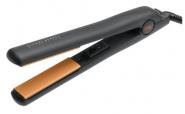 One of the latest styling products to gain popularity is the hair straightener. There are many different brands and styles of straighteners, but generally they all work on the same principle. Two ceramic plates, or irons, are heated just like a curling iron, and then the two plates are gently pressed against the top and bottom sections of hair and slowly drawn through the hair from the top to the bottom. The result is a soft looking, sleek hairstyle seen on such celebrities as Jennifer Aniston and Angelina Jolie.
The hair straightener not only removes frizz and fly-aways but it also is used to add body and definition to the hair. All types of hair can benefit from using a good quality hair straightener as a styling product. Most straighteners will have several heat settings, and the finer your hair is the lower the setting you will need to use.
In order to get the most out of your hair straightener it is important to start with a clean and dry head of hair. Dirty hair or hair with a lot of products already in it will "stick" on the ceramic plates, and will lead to broken and damaged hair and possible crimped looking patterns on the hair. Hair should be completely dry to avoid any damage to the structure of the hair (leading to split ends or dry looking hair). Some straightening irons are specifically made for use with damp hair, and if you wish to do this make sure your iron indicates damp or wet to dry hair. In addition to having clean hair also be sure to use a good moisturizing conditioner to prepare your hair for the treatment. While straightening is not damaging to your hair if done properly, a good conditioner can really add shine and manageability to your hair.
article continued
Advertisement
If your hair requires some texture or body for the style that you are trying to achieve, add mousse or styling mud or crème prior to blow-drying your hair. Work the product completely through to the roots to give the same texture to the hair all the way along its length.
If your hair has a tendency to frizz up throughout the day, try applying a small amount of anti-frizz serum prior to blow-drying. Use a large round brush to dry your hair from the top to the bottom, gently rolling the hair under to help straighten. Finish with a medium heat hair straightening iron, and a light sheen of shine crème or slight mist of good quality hair spray.
One of the biggest mistakes that is made when using a hair straightener is to heat the ceramic plates up too hot, and to damage the hair by moving the iron too slowly. You should always use the lowest possible temperature, and avoid the temptation to overheat the irons and dry out your hair. Move the iron in a smooth motion down the length of the hair. In addition, be sure to avoid making contact with your skin on your neck, scalp or ears as it will burn very quickly and painfully.
About the Author
Cory Willins writes articles for the Beauty Biz on beauty, fashion, diet and fitness.
Related articles
What causes it and how to fight back
A combination curling and flat iron that promises much
Hair today, gone tomorrow?
Top Stories
More budget-beating home-made beauty ideas
A fun bath treat for under £2
How toxins in the modern world are slowly poisoning us
Advertisement