Advertisement
Featured article
Review: Dancing with the Stars - Cardio Dance
An aerobic alternative with the stars from TV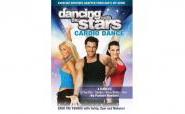 I'm on a health kick, trying to watch what I eat and I am exercising regularly. One part of my exercise routine includes a cardio workout, and I much prefer dancing to senseless jumping up and down or other typical aerobic routines.
For my last birthday, my husband bought me the "The Dancing with the Stars: Cardio Dance." It includes four dances – the cha-cha, the samba, the paso doble and the jive. The various routines are taught by some of DWTS's most popular dancers – Maksim Chmerkovskiy, Ashly Costa and Kym Johnson.
After seeing the way that many of the stars shed excess baggage during their time on the show, I was eager to see if dancing might do the same for me. At the very least, I figured it would help strengthen my heart and tone my body.
article continued
Advertisement
The DVD is divided into seven sections: warm-up, paso doble, cha-cha, samba, jive, bonus challenge and cool down. The warm-up is a typical dancer's routine before beginning dancing. The bonus challenge takes the dance skills learned to another level. Cool down helps bring the heart rate back down while ensuring muscle relaxation and overall flexibility.
The cha-cha is a Cuban dance designed to get the feet moving and the hips rotating in a mildly intense workout. The Jive, an upbeat American dance, is meant to get the blood pumping and the heart rate surging. This high intensity workout combines moves from the retro lindy hop and the swing. The paso doble is the dance of the Spanish matador. It helps to sculpt the muscles of the arms, buns and thighs in a low intensity dance routine. The samba, from Brazil, fuses heavy hip action with a steady work out that also works the legs and waistline, and is medium intensity.
I like this DVD but I don't love it. I do love the four dances chosen, which are lively and fun, and I also like the music chosen. However, the problem with the various routines is that none of the dancers involved spend enough time teaching the steps ahead of time. While those with previous dance experience may pick it up quickly, those of us who have never danced before need a little more time.
I think it would also be better if one individual stuck with each individual dance routine. Switching out teachers in the middle of the dance is confusing and difficult to follow. All of the dancers are amiable and equally fine teachers, although they might not have been the four I would have chosen as the producer.
Also included on the DVD are the following special features: A custom dance matrix, healthy eating tips from SlimFast and music only options.
Advertisement