Advertisement
Featured article
Jewelry trends for 2009
The must-buy necklaces, beads and bangles for the coming year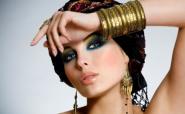 Jewelry continues to be a popular accessory, and that fact isn't likely to change anytime in the near future. The age of jewelry minimalism hopefully won't return anytime soon; the truth is that women love jewelry, and for the most part the more, the better.
Gold is still popular but this precious metal is quickly getting out of the price range of the average woman. For that reason, many are turning to new gold electroplated brands like Home Shopping Network's Technibond or QVC's 18K Clad. Such processes permanently bond gold over other metals like sterling silver or stainless steel. Many even offer a lifetime warranty. These new processes let women have the look and feel of real gold without the high cost. Look for gold choices in the standard colors of white and yellow as well as in harder-to-find rose and chocolate gold.
Silver continues to be popular as well. With the rising price of gold, silver is becoming a close runner-up in the jewelry market. That fact is causing silver prices to rise right along with gold, and is quickly pushing even this less expensive metal to a price that not everyone woman can afford. All of this explains why stainless steel is suddenly becoming the metal of choice. It is strong, beautiful, and inexpensive when compared to gold or silver. Best of all, gold bonds as easily and beautifully with steel as it does with silver.
article continued
Advertisement
Look for metal necklaces in geometric designs like circles, ovals, squares, and rectangles. Many of these will be layered with other geometric patterns or with chains, pearls, and beads. Lengths will vary but many of them will be long, reaching up to 60" so that they can be twisted or wrapped easily.
Pearls are also making a big splash. Whether they are worn in long loops or wrapped into a choker around the neck, pearls will be seen in abundance during the latter part of 2008 and into spring, 2009. While traditional ivory is still the most popular color of choice, there will be many other options to choose from. These will include pale peach, pink, gold, champagne, bronze, chocolate, gray, and black. Sizes will range from 4mm to super sized 12mm pearls. Natural pearls in different shapes will also be included on virtually every woman's wish list.
Big, chunky beads will continue to be worn well into 2009. However, there is a lot of focus on those that come from Mother Nature. Wooden ones are less desirable than last year but turquoise, coral, and jasper continue to be stones of choice. Large, meaningful pendants in ethnic designs may be worn with the beads or on their own on chains of every size and color. Particularly popular are choices in tiger's eye, lapis, and onyx.
Cuffs and bangles are the must-have jewelry items of the year. Big bold cuffs will be the piece around which the rest of the jewelry wardrobe will be built, whether in plain metals, animal prints or heavily bejeweled. Those who don't like heavy cuffs will opt for bangles instead, mixing colors and styles together to make a personal statement. Look for those natural stone accents in both cuffs and bangles, with turquoise, lapis, tiger's eye, jade, and adventurine leading the way.
Earrings are pretty much "anything goes". Hoops are still popular as well as chandeliers and dangles. They may be big or small but one thing is certain - earrings will represent their wearer's personal style.
Vintage is definitely in, but then so are trendy, modern styles. The season will see a lot of vintage rhinestones as well as plastics, resins, lucites, and celluloids. All of these will work hand in hand with metals, woods, and beads. Whether the look is old or new, look for enameled accents to bring a bit of extra pizzazz to status jewelry pieces.
The good news is that very little in the way of jewelry trends are actually "out". With the major exception of wooden items, different types of material remain popular. While stud earrings are taking a back seat this season, they are by no means out of trend. The same can be said for smaller, more delicate pendants. Some women will still choose them because they are timeless.
The bottom line is there is sure to be something for everyone in today's jewelry market. It's almost anything goes. Who can ask for more? So go forth, seek, purchase and have fun!
Related articles
Campaigners protest against Burberry's use of fur on the catwalk
A time of hippies and Twiggy, bell-bottoms and mini-skirts
A time of glamor and blonde bombshells
Top Stories
A lip plumper that works without drying out or burning your lips
Where to buy your clothes with a good conscience
Some common questions about hair care answered
Advertisement