Advertisement
Featured article
Handbag basics – the different styles
Accordions, buckets, hobos and more - all you need to know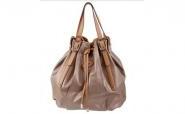 There are dozens of different types of handbags available in today's marketplace. They come in different sizes, shapes and styles, in different materials and colors, they vary in price from affordable to out-of-this-world expensive. And there are a multiplicity of different styles: accordion bags, backpacks, buckets, clutches, cross-body bags, hobos, shoulder bags and more.
This can make choosing a handbag very difficult, so let's take a look at some of the most basic styles and see if we can make some headway through the chaos of choice!
Accordion handbags
This handbag expands through a series of pouches or pockets that appear separate but are somehow connected together. As the bag opens, it resembles the bellows of an accordion, hence its name.
article continued
Advertisement
Sizes range from a small clutch to large tote. The advantage here is that this bag can grow to fit a woman's expanding needs. Also accordion handbags are ideal for the woman who likes to compartmentalize her bag, as well as for the woman who is budget conscious. Accordions begin at around $10.
This type of bag can be made from any type of material or fabric, although it needs a certain amount of body in order for the accordion pleats to hold.
Backpacks
Backpacks have two shoulder straps, attached at the top and bottom on both outside edges. These fit over the shoulders allowing the bag to sit comfortably on the back with the weight evenly distributed. Most are adjustable.
This type of bag usually runs from medium to extra large. It is ideal for students, busy mothers, teachers and businesswomen because of the amount and size of material it can hold.
Backpacks are not usually expensive, often averaging around $30 to $50. However, both cheaper and more expensive models can also be found.
The real key to this type of bag is durability, which is why canvas fabric is a great option. However any heavy-duty material that won't easily rip or tear is worth considering.
Bucket bags
This style, which is also sometimes called the Boho bag, is generally no taller in height than it is in width, though some of today's newer models break that rule of thumb. The bottom of a bucket bag is usually somewhat rounded. Most also gather at the top by means of a drawstring.
Sizes range from medium to large, although a new trend is miniature models for night-time use. This type of bag is ideal for the woman who likes to carry a variety of items in her bag. Buckets have plenty of room because aren't usually divided into a lot of different sections or pockets.
The cost can vary greatly, beginning as low as $10 and ranging well over $500. However, around $100 is the norm for today's most stylish buckets. Fabrics can vary slightly but leather is a favorite.
Clutch purse
This small to medium sized handbag is relatively compact in nature and made to be held in the hand or carried underneath the arm. It is ideal for a night on the town or for special occasion day use.
Usually not too expensive, the average clutch ranges between $30 and $50, unless it is vintage in style or status - then it can cost hundreds of dollars.
Clutches can be made from virtually any type of fabric or material, from satin and lace to croco leather.
Cross body bags
This handbag has an extra long shoulder strap that is usually adjustable to fit a woman's body. It is made to be worn across the body from one shoulder down to the opposite hip.
A cross body bag is relatively small in nature and is ideal for travelers, students, moms and businesswomen who just want to carry the bare essentials. It is also ideal for anyone who wants to ensure the handbag is kept close to the body, making it more difficult to snatch away.
Costs for a cross body bag are a little more expensive, usually ranging between $30 and $50. They may contain compartments or have a single large opening.  Material for this type of bag varies somewhat, but leather or faux leather is definitely a favorite.
Hobo Bag
A hobo is anopen bag that isn't heavily compartmentalized. It may or may not have a zipper closure at the top and can have a carry handle, a shoulder strap or both.
Hobos are usually bigger, running large to extra large in size. This type of bag is ideal for the woman who likes to carry everything in her handbag (e.g., wallet, keys, makeup, etc.).
Made from everything from macrame to leather, the price of a hobo bag can vary greatly from manufacturer to manufacturer. They begin at $10 but can go up from there to the hundreds of dollars.
Shoulder bag
A shoulder bag is made to be worn over one shoulder. It may or may not be compartmentalized. If it is, compartments may be inside or outside of the bag or, in some instances, both.
Sizes range from medium to large in nature, making the bag ideal for the practical woman who wants to make the most use of her bag space while also ensuring safety when carrying the handbag.
Usually made from leather or faux leather, a shoulder bag can be made from any type of durable material. That makes it easily affordable, ranging in price from $10 and up.
This article just scratches the surfaces of today's basic handbags. Check back in the future for more handbag basics.
Related Articles:
About the Author
Charlie has over 25 years business experience in various fields, having worked in food service management, floral design, business development and management, marketing, and training. She has authored several business handbooks, developed, edited, and produced content for multiple newsletters, and writes poetry.
Charlotte's homepage: Charlie's bio
Related articles
Bring the secrets of the fashion shoot to your own photos
From flare to skinny, we cover them all
Some simple tips to look great fast
Top Stories
Stay fashionable in 2011 without breaking the bank
A summary of the services offered in a typical salon
A lip plumper that works without drying out or burning your lips
Advertisement