Advertisement
Featured article
Hair straightening - a guide to flat irons
Flatten those waves for the look you want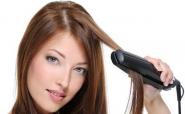 There's an old adage that says people always want what they don't have, and that's certainly true when it comes to women and their hair. Women who are born with straight hair want curls. Women who are born with curls want straight hair. And with all of today's styling processes, products and tools, women can often get exactly the style they want. Having looked at hair curling in another article, let's look at the opposite – hair straightening.
Professional beauticians can use chemicals to straighten curly hair, but sadly, the process can damage hair, especially hair that is delicate or color. Some women use a brush and hand hair dryer to straighten their hair, which works, but can take hours if the hair is thick or unusually long.
Back in the 60's women even straightened their hair themselves, using - of all things - a clothes iron. However, it was easy for the iron to overheat and damage the hair – many accidents led to women having to endure a short haircut until it grew back. Eventually the clothes iron gave way to a new beauty invention called the flat iron. It uses controlled heat and a safer delivery system to achieve the straight look that women want.
article continued
Advertisement
So which flat irons actually work? Sadly, the answer isn't simple. Some work well on certain types of hair but not on others; in this article we'll look at flat iron tools that work well for almost anyone.
The Hai Ceramic Flat Iron is a favorite among hair stylists. That's because the tool achieves enough heat to effectively straighten the hair without going overboard, or generating the excess heat that dries and damages hair. They've achieved the perfect balance, making their flat iron very popular. Of course, the fact that it's good also drives up the price, and this one retails for around $80.
The Revlon Perfect Heat Professional Straightener is another great option. This flat iron is very basic but it does what it claims to do and for a good price. It retails for around $25.
The Sedu Ionic Ceramic Tourmaline Flat Iron is very popular among today's beauty mavens. Women love it because it is easy to use, causes minimal (if any) hair damage and lasts a long time. Unfortunately, it isn't cheap at $130.
The InStyler is a product that some inspires both love and loathing. Those who use the InStyler swear that it works, is easy to use and leaves hair looking shiny, silky and beautiful. Others who've tried it have a different story to tell, claiming their hair is broken, fried and damaged. The InStyler is unique in that it has a rotating styling barrel that can be used one way to straighten hair and another to curl it. It also has a unique polishing barrel and teeth that help separate hair for easy styling.. Quite frankly, more women love this brush than hate it, but the price tag is steep at $100.
The BaByliss Pro Nano Titanium Straightening Iron is popular because it has variable temperature settings that allow women to control the amount of heat they use. It also has slightly larger heating plates which mean more hair can be dried in a pass. That cuts down on the amount of styling time. However, the titanium plates drive up the expense. This one retails for around $130.
The CHI Mini Ceramic Hairstyling Iron is perfect for women who travel a lot. Its compact size makes it easy to carry, and it is still a good flat iron. Its unique curved edges eliminate the need for extra styling tools, and the swivel cord makes it easy to manipulate. The cost isn't horrible either at under $50.
Conclusion
The key to choosing a good flat iron is to decide what matters most to you; even heat control, multiple heat settings, barrel type and price. Hair type and condition must always be taken into consideration - delicate or color-treated hair requires something gentle. Normal hair can afford something stronger. Making the wrong choice could result in long-term unhappiness so it's best to do the proper research before jumping into the pool.
Related Articles:
Related articles
A hair treatment that helps your damaged hair recover
A tour through one woman's favorite Toni Brattin synthetic hair range
Dyeing your hair on your own? Read this guide first
Top Stories
Start on the road to weight loss with these simple tips
Some popular diet plans compared
Keep your feet looking and feeling good with these great foot care ideas
Advertisement