Advertisement
Featured article
Hair curling - a guide
Your hair curling options from bobby pins to hair rollers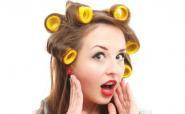 Most women like variety even when it comes to hairstyles, and that includes longing for luscious curls. For women born without natural curls, that means they have to obtain them through some artificial method. A lot of women opt to get a "perm", which adds curl to the hair by using chemicals.
The nice thing about perms is that they usually last several months or even up to a year. The perm process also allows for a certain amount of curl control; a woman can opt for tight, springing curls; loose, beautiful waves; or something in between.
However, permanents can damage hair and dry it out. That is especially true for delicate or color-treated hair. For that reason many women opt instead for temporary curls obtained by one of many curling processes.
article continued
Advertisement
Luckily, today there are lots of ways to curl hair: old fashioned bobby pins and rollers or heating devices like hot rollers, curling irons and curling brushes. All of the methods work, but some work better than others, depending on the type of hair involved, the styling products used and individual skill.
Bobby pins
Few women use bobby pins to curl their hair these days. However, they were once very popular; a pin curl could achieve a tight, spring curl that lasted all day long. Starting usually on clean, wet hair, the curl was done by twisting a small piece of hair around a finger and then forcing it flat up against the head, securing it in place with a pin.
Bobby pins were easier to sleep on than old fashioned rollers. Additionally, a certain amount of control could be achieved over the curl by increasing or decreasing the amount of hair in each pin curl. Use of a styling solution or gel could also help extend the amount of time the curl would last.
Traditional hair rollers
It's hard for women today to believe that their counterparts in the 50's and 60's once tortured themselves trying to sleep on old-fashioned rollers. Some of them were stiff or prickly, others were rigid, and only a few rollers were actually soft and pliable – mostly made out of some kind of sponge foam.
A few women still curl their hair using rollers today. However, they rarely sleep on them. Instead, they set their hair wet and then allow it to dry naturally throughout the day. Some speed up the process using a hairdryer. A few women still use sponge rollers or bendy foam rollers that can be slept on overnight.
Curls obtained through the roller method can last a few minutes or all day long. Much depends upon the type of roller used; however rolling the hair wet versus rolling it dry also alters the length of curl. The use of a styling product can help extend the curl process.
Hot Rollers
Over the years, hot rollers have replaced the old fashioned models; they combine the use of rollers and heat in a single process, so are quick and convenient. However, there is a problem; hair can't be rolled on hot rollers while it is still wet, it must be partially or completely dry. This means that curls achieved through hot rollers often don't last as long as they did by the old fashioned method.
Today's hot rollers come in a variety of styles and sizes, with something to suit every woman's needs. It's important to note, however, that hot rollers can dry out and damage hair if they are used incorrectly or too often.
Most beauticians recommend using a sponge or ceramic hot roller. They provide the gentlest process while still achieving a long-lasting curl.
One of the best ceramic hot rolling systems on the market today comes from BaByliss. It is the BABH 40 Ceramic and Ionic 30 Roller Hair Set. It retails for around $70, which is well above the average for ceramic hair setters. The system provides 16 jumbo and large rollers (8 each), 8 medium rollers and 6 small ones.
Steam rollers use steam heat to set curl into the hair. For some people, the steam adds much-needed moisture into the hair during the curling process. The soft, sponge rolls absorb moisture from the steam and transfers it to the hair during the setting process. This provides a gentle, long lasting curl that appeal to a wide variety of women.
The best steam setter on the market comes from Caruso, the Salon Pro 30 Molecular Steam Hairsetter. It retails for around $40, which is a bargain in this instance.
For women who want spiral curls, there is yet another BaByliss product, the Hot Sticks Model BABH 19R, which retails for around $35. The rollers come in varying widths to control ringlet size. Hot Sticks are suitable for all hair lengths and can range from tight curls to gentle waves.
Curling Irons
Curling irons work basically the same way as hot rollers except that each curl is set independently. For that reason, the process takes a long time for women who want an all-over curl. In truth, curling irons are better suited for curl touch-ups.
Curling irons come in metal and ceramic models. Most beauticians prefer ceramic irons, believing them to cause less stress on the hair. However, no matter the type of iron used, the process itself is tricky, and many women never master it. As with hot rollers, curling irons can only be used on partially damp or completely dry hair. They are not suitable for use on wet hair.
Some of the best curling irons on the market today are:
Rusk Spring Curling Irons. Loved by beauticians because they are easy to use and last forever. However, the brand is more expensive, ranging around $100 for the top styles and sizes.
Conair Ceramic Curling Iron, with a 1½" base, is also popular. It emits ions as it curls and creates beautiful, soft waves. The cost is around $35.
Conair also has one of the best corkscrew curling irons available in the Conair Instant Heat Spiral Styler. It has 25 heat settings and an amazing price tag of just $20.
For tighter curls the Revlon Perfect Heat ¾" Curling Iron fits the bill. It has multiple heat settings and heats quickly. The cost is around $35.
Styling Brushes
Styling brushes are a variation on curling irons. Some women swear by them, while others consider them all but useless. Some styling brushes use plastic or ceramic teeth while others employ bristles similar to that of a regular hairbrush. Like curling irons, brushes should only be used on dry or partially damp hair. Trying to style wet hair is time-consuming and won't achieve the best overall look. Additionally, the bristles or teeth can pull and break delicate hair, especially when it is wet.
Styling brushes rarely provide the same amount of heat as a curling iron, producing curls that are usually of a looser, more carefree variety. They are, however, ideal for smooth hairstyles that don't require much in the way of curling.
Here are some of the best styling brushes available today:
The Conair BC40JBC Hot Brush is very inexpensive, averaging less than $10. The ¾" aluminum barrel provides a decent curl that lasts most of the day.
The Revlon Hot Air Brush comes with two aluminum barrels in ¾" and 1" sizes. It comes with three heat settings and three speed settings along with an airflow concentrator attachment and 1200 watts of power. The bristles are natural brush. The cost is also reasonable at around $20.
The Conair Infiniti Pro 2" Spin Hair Brush volumes and shines hair as it curls without frizz. It's perfect for smoother hair styles because of the big barrel size. However, because it uses a tourmaline ceramic barrel, it is a bit more expensive. It retails for around $60.
The Helen of Troy Tangle Free Hot Air Brush features a gold thermal barrel that heats faster and dries better than other brushes. The barrel also removes for easy cleaning. The cost is reasonable at around $25.
Curling hair is easy using today's innovative tools. All it takes is a bit of patience and time to create the perfect hairstyle.
Related Articles:
Related articles
Dyeing your hair on your own? Read this guide first
Tons of tips to keep hair bright and beautiful
Three ways to have beautiful eyebrows
Top Stories
Don't work that body till you've read these tips
Accordions, buckets, hobos and more - all you need to know
Products and tips to product your hair in that summer sun
Advertisement