Advertisement
Featured article
Aging skin - does anything really help?
What you can do to turn the skin clock back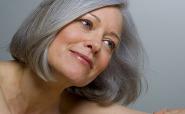 Millions of dollars are now spent every year on anti-aging skin care products. For those just entering those years where aging begins to take a toll on the body, some of these products even work. For skin that has already aged, however, the prognosis isn't nearly as good.
Aging skin has a lot of issues with which to contend. These include loss of skin cells, decrease in moisture absorption, change in elasticity and collagen, skin pigmentation and more. The problem is determining which of these issues are most important for your type of skin and then finding a solution, if such a thing exists.
The decrease in the number of healthy new skin cells created by the body is difficult to address. It is, after all, just part of the aging process. What you can do is take better care of the skin you still have. The first step is proper hydration. Although everyone is sick of hearing it, drinking lots of water actually does help skin look more youthful and appear firmer. That is because skin cells are plumped up from the inside out, which is how nature meant them to be.
article continued
Advertisement
Beyond water, certain vitamins can help keep skin looking healthy by maintaining the skin's natural collagen and elasticity. Some can, in fact, help with the growth of healthier skin cells. These include Vitamins C and E. Both are amazing antioxidants that work well at defending skin against the free radicals of aging. Both also boost the immune system to give the body the strength it needs to fight any type of skin issue.
More than that, however, Vitamin C contains important collagen, which along with elastin are key components in youthful looking skin. The human body is capable of producing sufficient amounts of collagen in its early years. However, as the aging process begins, less and less of this important product is made naturally, so it must be supplemented.
Vitamin E helps accelerate the healing of skin issues in a miraculous way. While an argument rages over whether internal or topical use of these two vitamins works best, the truth is that a combination of both is probably advisable. Certainly, looking for skin creams that are rich in Vitamins C and E can't hurt. But it is important to be aware that alone it won't likely be enough; an increase in the amount of fruits and vegetables consumed will better jump-start the process.
Together with collagen, it is elastin that forms a crucial fiber web that provides the skin the support it needs to act youthful. While one without the other may help somewhat, when both collagen and elastin are present the overall appearance and feel of the skin will definitely be better.
Many skin care products advertise an increase of elastin. In reality many of them don't work nearly as well as some simple changes in lifestyle. Strengthening any muscle in the body will help the skin of top of it look and act firmer. That makes an excellent case for exercise even when weight or health isn't an issue. It also explains the increase in popularity of today's popular facial massage machines like Suzanne Somers's Face Master; by strengthening the underpinning of the skin, the skin itself takes on a more youthful elasticity.
Changes in hormone balance often causes major skin pigmentation. The lack of sufficient oestrogen quantities makes skin thin out, which allows veins and capillaries to be more easily seen. This is condition is commonly known as rosacea.
Another thing that happens as skin ages is that melanin settles closer to the base of the epidermis. This makes the skin turn brown and look uneven, and is usually referred to as age or liver spotting. Hormone loss and an increase in liver spots usually go hand in hand since melanin is spurred on by the lack of oestrogen. However, sun damage directly to the skin is also a major culprit in this process.
There are some successful medications that can be used to treat rosacea and there are an abundance of creams on the market aimed at fading liver spots. While these may work somewhat, none of them completely solve the underlying problem once it has made itself known.
If you believe Dr. Oz, the medical protégé of Oprah Winfrey, there are some other key ingredients that should be looked for in any good skin care line, the most important things of which are Resveratrol and Dermacai.
Resveratrol is a powerful antioxidant that not only helps to rejuvenate skin but also helps in its detoxification. Dermacai, on the other hand, seeks to lighten the typical signs of aging like pronounced wrinkles and skin pigmentation.
Many beauty professionals also point to something known as Cynergy TK. It is believed the product helps improve collagen development while also stimulating new elastin production.
Vitamin gurus always point to Vitamins A, C and E. However, many are also sold on the benefits of CoQ10 as an important addition to any beauty regimen; it is believed to be a crucial factor when it comes to aging skin. This antioxidant helps to fight the free radicals that cause skin damage, sometimes even successfully reversing some of the effects.
On the other hand, a lot of naturalists point to acai. Once taken primarily internally via a juice format, condensed acai is now being included in many new skin care products. Believed to be one of the most powerful antioxidants available today, it supposedly helps heal existing sun damage while rejuvenating the skin at the same time. While the results may still be out on such claims, there are a lot of people jumping aboard the acai bandwagon.
Alpha-lipoic acid is another powerful antioxidant used in good skin care. It has the capability to penetrate skin cells at every level so that free radicals can't easily take hold. It delivers a more youthful glow while also helping to diminish the look of lines and wrinkles and evening out the look of pores.
Alpha hydroxy acids remain popular as well. This is primarily due to their ability to exfoliate or resurface the skin. That reduces the look of skin pigmentation and those pesky fine lines and wrinkles.
The truth is there is no magic formula of products that will totally reduce the aging process. What works for one woman may not work for another. It will take a lot of trial and error and much disappointment before your fountain of youth can be found, so good luck!
Related articles
What to teach her and when
Mid-year is as good as New Year for making a new you!
The best cleansers and advice on how to use them
Top Stories
Why pay when home-made hair care is cheaper and better?
Look hot and sexy when it's cold and dark
Fine or thick hair, straight or frizzy, there's a hair-styling product for you
Advertisement