Advertisement
Featured article
Review: Dove Intense Damage Therapy Shampoo and Conditioner
A hair treatment that helps your damaged hair recover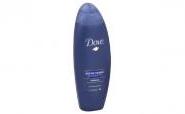 Dove products have been around for a long time and the Dove name is one of the most respected names in the industry. It's a name that was put on the line a few years back when Dove decided to focus heavily on products for women, including soaps, hair care, and beauty products. They also risked their well-known brand by deciding to base their products on the needs of real women, and they went a step further to also feature real women - real mothers, grandmothers, sisters and others – in their advertising.
The gamble has paid off in spades for two reasons. The first is that Dove products reallly are some of the best in the marketplace today. The second is that women who have long been forgotten, push aside or berated suddenly had a real advocate in Dove. And of course the two reasons go hand-in-hand - real women will definitely "try" Dove products because of what they represent. However, if they weren't great products, their loyalty would stray.
Case in point: Dove's Intense Damage Therapy Shampoo and Conditioner. These two products are especially made for damaged hair, whether the problem stems from too many hair dyes, highlighting, sun streaking the hair, too many perms or straightners or damage from the elements. Dove's therapy products are infused with a special serum that works from the inside of the hair shaft out; to repair any damage and strengthen each and every strand. They also give the hair the infusion of moisture it requires to look and feel healthy and shiny. The results speak for themselves with beautiful results each and every time they are used.
article continued
Advertisement
Dove's Damage Therapy Shampoo and Conditioner can be found in discount department stores, drug stores, and some grocery marts. They are also carried by some beauty boutiques. Retailing for under $5 American dollars, it's easy to see that this is a real bargain. I did find it made my hair very soft, making it difficult to hold some styles, but apart from that this is a product to be highly recommended.
Advertisement