Advertisement
Featured article
London Fashion Week 2009 - the glory days gone?
A fashion designer's view of the LFW Exhibition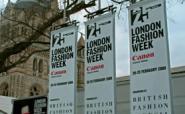 The 2009 London Fashion Week has just finished – how did it compare with past years?
I have been attending the London Fashion Week for 16 years, so how did the just-finished 2009 show compare? It's a tough comparison, as many of those past shows were strong, exciting, and attracted a Who's Who of international clientèle to see the wares of British talent.
In recent years some designers have fled to other fashion capitals, such luminaries as Jonathan Saunders, Matthew Williamson and Alexander McQueen. This perhaps not surprising in view of the economic downturn, and it is perhaps these dull, grey and negative economic times that have influenced this season's equally dull colour pallette. Predictably for Autumn-Winter collections, the season again is awash with muted shades, and the obligatory black.
article continued
Advertisement
This mode of thought can also be seen in make-up trends; the general colour application was either putty-ish or rough-looking, with models looking like they'd just come off a weekend bender with deathly dark eyes and transparent skin complexion. Some designers showing off this gothy look are Meadham Kirchhoff, Rick Owens and Ann Demeulemeester.
The hairstyles were no better, mainly resembling a straw-like heap, pushed one side or another in a desperate bid to achieve a 'style'. All in all, apart from a handful of designers who used one colour block in a bold eye shadow application, I had the feeling that I could have been in a morgue.
I spent most of my time in the so-called "Exhibition" at the London Fashion Week tent. As an exhibition, I was expecting a certain level of imagination or artistic skill. But sadly the multiple rails of clothes and accesssories were displayed with little inspired thinking, and they neither enthused or encouraged positive thinking. Instead, I found myself strolling around countless units of designers' collections with a distinctly quiet and lacklustre atmosphere.
Why was this so? Perhaps it was the absence from the Exhibition of the other aspects of the image industry, such as beauty, hair and make-up. Had a place been found for them, there might have been a much bigger sense of fun and "dressing up", and a livelier atmosphere.
But perhaps it is appropriate that such a gloomy year has produced such a gloomy Exhibition.
About the Author
Ian is a freelance printed textiles designer, noted for his bold, colourful and eccentric styles, with influences from both South America and North Africa.
Ian's homepage: Ian Labeija designs
Related articles
Make a new outfit out of what you already have
You already have the clothes you can't afford to buy!
Home video camera beauty tips galore!
Top Stories
A foundation that blends to match your skin tone
A mascara that claims to grow your lashes
An all-round look at chocolate - we love it, does it love us?
Advertisement