Advertisement
Featured article
Review: Signature Club A's Nature's Color Lift Capsules
Capsules that claim to provide firmer, lifted skin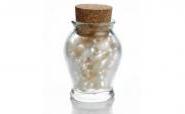 I have used Signature Club A products for many years and most of the time I have been happy with my purchases. Unfortunately, I have become increasingly disappointed with this once reliable line. It has become more expensive, while many of the products have become inferior and/or do not live up to their claims.
According to Signature Club A, Nature's Color Lift Capsules "contain innovative nature-based lifting, firming, brightening, and color tint ingredients". According to the label, they contain "a rare natural ingredient derived from the acmella flower, along with amica montana, licorice root extract, tourmaline and crushed pearls".
The company claims that these ingredients work to provide mistake-proof translucent coverage, skin brightness and the look of firmer, temporarily lifted skin. Moreover, one capsule is all that is required to obtain "instant" temporary results as well as long-term beauty benefits with continued use. It further claims that the products negates the need to use any other cosmetics.
article continued
Advertisement
I see very little difference between this product and similar capsules that Signature Club A has produced for years. I put one of the old capsules on one half of my face and the new Color Lift Capsule on the other. There was virtually no difference in how the two products performed, although the new capsule costs some $10 more than its predecessor.
The capsule's ingredient did indeed contain skin brighteners. The cream felt good going on the skin and seemed to help moisturize slightly. However, despite what is said on the Home Shopping Network, I would argue that these capsules are not suitable for all ages. As an older woman pushing 60 I found that they brought too much attention to my fine lines and wrinkles, highlighting them with a pearlescent look.
I was also disappointed to see that the capsules did absolutely nothing at all to make my skin appear firmer. Nor did they serve as any kind of facial lifting product. I tried using more and I tried using less, thinking that perhaps I was applying them incorrectly. However, nothing I did achieved the claims made by the company.
Lastly, there is no way that one can use these capsules as the sole cosmetic application unless they already have flawless skin. But then why would someone with perfect skin "want" or "need" this product in the first place? You can achieve the exact same look and feel with more than a dozen products in the market today; most of which cost less than $10. The $40 price tag of these capsules is seriously inflated.
Final Verdict
Don't bother with Signature Club A's Nature's Color Lift Capsules. This product does not work except perhaps as a slight moisturizer and skin brightener. It does not firm or lift the skin and only very few women could use it as their sole cosmetic application.
Advertisement