Advertisement
Featured article
Gift sets galore
Great beauty goodie suggestions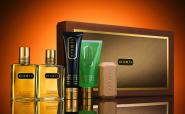 Ever since I was a little girl I have loved receiving beauty gift sets as a present, one of my earliest memories is opening a Body Shop coffret of bubble baths. They always came in small wicker baskets filled with recycled straw and had three bottles of varying lotions and potions and then - my favourite - the bath bombs that always stuck to the side of the bath and had to be scraped off by mum with a brillo pad afterwards (which perhaps explains why I can never seem to find them anymore!)
Anyway, I have got older and my obsession has only worsened, so here are some of this year's offerings of gift sets that I would be only too happy to give or receive:
Something for Her
Estee Lauder Makeup Artist 2007 Professional Color Collection, £45 [when you buy any fragrance, available nationwide]
article continued
Advertisement
Clinique Eye Favourites, £35 [available nationwide] This contains everything you need in a gorgeous make-up bag: an eye shadow palette, mascara, lip stick and make-up remover.
Ghd giftset, £149 [available from all ghd approved salons and www.ghdhair.com] Ghd is the Ferrari of hair straighteners and this is the perfect kit for any girl who can't bear to be without hers. It contains ghd products, the styler itself and a clutch bag and mirror, so once the hair is perfected she has the perfect accessory for a festive night out.
Dr Hauschka 40th anniversary tin, £30 [available at John Lewis, Fresh & Wild and from www.drhauschka.co.uk] This beautiful retro set contains three signature Dr Hauschka products – the cleansing cream, facial toner and rose day cream. If you have never tried these products I urge you to make it your New Year's resolution to do so.
No 7 skincare treats, £15 [available at Boots] The perfect gift for any young girl who wants to start a skincare regime; it contains a toner, cleanser, moisturisers and is ideal for delicate sensitive skin.
Elle Macpherson gift box, £15 [available at Boots] Get a gorgeous body courtesy of The Body.
John Frieda gift sets, £10 [available nationwide] With four different varieties to choose from, each filled with a shampoo, conditioner, an intensive treatment and styling products - so there is no excuse for lacklustre hair this Christmas!
Rodial Christmas kit, £19 [www.rodial.co.uk] A fantastic present for anyone who is escaping for some winter sun this Christmas; it contains a face and body wash, body scrub and a body cream.
Mister mascara ultimate nails kit, £10 Unwrapping all those presents is going to leave your nails in dire straits, so make sure this is on your Christmas list.
Leighton Denny essentials collection, £45 Nail technician to the stars, Leighton Denny has put together this essential kit for basic nail grooming.
Ren Rose Duo, £35 Containing what I think is one of the best body moisturisers out there, this duo is perfect for anyone with very dry skin or anyone who likes to spend some quality time in a bubble bath.
Missoni Acqua Christmas set, £45 [available at major department stores nationwide] An elegant gift, for a very elegant woman.
Something for Him
Clinique skin supplies For Men - The luxury shave set, £27 [available nationwide] This is one of my favourite men skincare ranges – it gives fabulous results, is reasonably priced and a little goes a long way.
Aramis The Classic Collection, £59 [available nationwide] Ideal for the sophisticated man in your life, the set contains an eau de toilette, aftershave, aftershave balm, body shampoo and soap.
Lab Series skincare for men essentials Christmas set, £35 [available nationwide] Another great skincare range, that have put together four of their favourite products in a handy-sized travel bag.
About the Author
Sarah-Jane is a freelance Fashion and Beauty journalist and make-up artist. She has worked at The Daily Mail, Tatler and Closer.
Related articles
A mineral makeup FAQ - what makes these cosmetics so popular?
Big hair from Dynasty to Madonna
Protect your skin against winter cold and stress
Top Stories
Start on the road to weight loss with these simple tips
Are you a spring, summer, fall or winter woman?
How to choose and apply the blush that's right for you
Advertisement