Advertisement
Featured article
Review: Olay Definity Color Recapture
A moisturizer with built-in SPF protection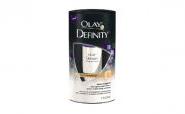 Like most women my age, I want to look as good as I can all of the time, but I don't want to wear makeup 24/7. For that reason, I was eager to try Olay Definity Color Recapture. It offers a sheer touch of color along with:
SPF 15 protection
anti-aging properties
penetrating moisturizers
skin illuminating qualities
It seemed to offer the best of all worlds in one, single bottle. The question was "does it work?" I'm happy to say the answer is a resounding "yes!"
Olay Definity's Color Recapture contains a glucosamine complex that allows it to penetrate through all the layers of the skin to work from the inside out. It is specifically designed to treat aging skin by providing youthful hydration; improving skin texture; enhancing natural skin tone and color; eliminating minor flaws due to skin discoloration and diminishing the look of fine lines and wrinkles. Best of all, it does all of that in just about 30 to 45 days.
article continued
Advertisement
What I like best about Color Recapture is the beautiful glow it leaves behind. It makes my 60-year-old skin glow like that of a teenager, beaming from the inside out the way young skin does naturally. I also love the way it slowly but steadily lightens my brown age spots and dark skin patches. Of course its best feature is the way it plumps up fine lines and wrinkles to give the look of an instant face-lift. You have to love that! 
Olay Definity Color Recapture comes in three shades: fair to light for lighter skin tones; light to medium, which covers the vast majority of women; and medium to deep for olive toned skin and skin that is tanned or light brown. I'm not sure that the deep color is sufficient for all women of color - Olay may need to revisit that formula to make it more inclusive.
The cost for Color Recapture varies slightly from location to location. I purchased mine at the local base commissary for just $18, but it averages around $24 at most locations. It can be found at beauty boutiques, drug stores and some grocery marts as well as online.
This is an excellent product. It isn't perfect but it comes awfully close and it's a real bargain for the price, delivering what some high cost skin care products only hope to offer.
Advertisement