Advertisement
Featured article
Cosmetics must-have products
Cosmetics staples no matter your age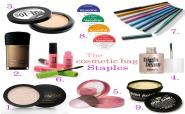 With thousands of cosmetics available in the marketplace today, it can be confusing trying to decide which ones to use and which ones to avoid. However there are some staple cosmetic items that everyone should consider using.
Tinted moisturizer
A lot of women, especially those at the opposite ends of the age spectrum, really don't need a full foundation. Heavy foundations contain extra additives, preservatives and chemicals that can cause a lot of damage to the skin and make it difficult for skin to breathe.
On top of that, foundation cakes in fine lines and wrinkles, making them more pronounced than ever, so women who already have a lot of fine lines and wrinkles may discover that foundations only add to problems they most want to hide. Finally, foundations like pancakes, sticks and the like also cause the skin to flake, which isn't very attractive.
article continued
Advertisement
A better alternative is a good tinted moisturizer, which accomplishes two important things: it adds the moisture that all skin needs, and gives a hint of color camouflage to make skin look glowing and more youthful. Some of the best on the market include:
Neutrogena's Healthy Skin Tinted Moisturizer is vitamin-infused with retinol. This moisturizer also contains a SPF of 20, giving crucial extra protection against the sun. However, the real quality of this product is that it makes skin look smooth, soft and oh so healthy.
One of this writer's favorites is Olay Complete Tinted Moisturizer. It is intensely moisturizing, which makes it a great option for even the driest skin, like mine. The trick here is finding the right color match for your skin in order to enjoy the full benefit of the product. It can be a bit hit or miss but is well worth the effort in the long run.
One can seldom go wrong with a Cover Girl product and their Cover Girl Smoothers are no exception. However, keep in mind that this tinted moisturizer seems to work best for combination and oily skin, rather than dry skin.
If you can afford it, DuWop's Revolotion Face is a good choice as well. It not only moisturizes and tints but also enhanced the look of skin with clever light-reflecting properties.
Clarins Hydra Care Tinted Moisturizer is also top notch, yet a bit on the expensive side. It does the job while evening out skin tone and also leaving it with a rare, healthy looking glow. Very sheer, it is a favorite among women of a certain age because it doesn't add any further problems into the mix.
Mascara
Mascara is one product you should never leave home without. If you can't take the time for a five-minute face, at least take a few seconds to enhance those beautiful eyes. It will lift your overall look and make you feel better about going out bare-faced.
The key to a good mascara choice is to select one that is darker than your natural eyelashes. If your lashes are blond or brown, opt for a brown, brown-black or gray, if darker, think black-brown or black for the most definition.
There are lots of great mascaras available in today's marketplace. Here are some of the top picks:
Maybelline's Great Lash Mascara continues to be popular even among some of today's top makeup artists. While it doesn't personally work for me, a lot of women swear by this inexpensive option that comes in a variety of great colors.
Clinique High Definition Mascara isn't cheap but it is well worth its slightly higher price tag. The product's revolutionary dual definition wand makes certain no lash is left uncovered for the long, longer, longest lashes possible.
Cover Girl's Lash Blast got off to a slow start with some women but it has been picking up speed with each and every tweak and improvement. Adding in flecks of color to accent the eyes further was sheer genius and propelled this mascara into the stratosphere.
Avon's Super Shock Mascara proved that mascara didn't have to cost an arm and a leg to work. Its clever delivery system makes certain that lashes are awakened with a wash of great color.
Almay One Coat remains this writer's favorite mascara of all time. Nothing seems to provide the clear, clean coverage of this product, which is safe for the most sensitive eyes.
Lip Color
Lip color helps to define another crucial facial feature - the mouth. For some women, lip color is important to even out skin tone. For some, it makes lips look and feel smooth, and for others it provides mouth definition when lips are mismatched or small.
While traditional lipsticks don't necessarily work well as a blush substitute, some of today's more progressive lip colors, including ever popular mineral lip powders, do double well in this way. This writer uses Bare Essentials lip colors and glimmers both as lip powder and blush quite successfully. That's double the punch for the money.
There are lots of great lip products on the market. Your choice will depend greatly on what you want your lip color to achieve. However, here are some of the best overall options:
Lip stains like Laura Mercer's Lip Stain work great for both lips and cheeks. It delivers a smooth satin finish with just a hint of color.
Bare Escentuals Mineral Lip Colors come in hundreds of intoxicating shades. In powder form, they can be applied both wet and dry and double beautifully as a blush in a pinch.
Cover Girl scores again with their Cover Girl Lip Stain. This perfect wash of color works for women of all ages, from 17 to 75.
Maybelline also scores again, this time with their Moisture Extreme Lip Color. The extra moisture infused into this product helps to hydrate and plump up the lips for that sexy pout that all women love to deliver.
Burt's Bees Medicated Lip Balm provides a sheer wash of color while also protecting and healing lips from the inside out.
While ideally a good makeup regimen might also include foundation, concealer, eye shadow and blush, with just the few basic staple cosmetics mentioned here most women can make themselves look like a million dollars. In the long run, that is all that really counts.
Related articles
A very pretty razor that gives a smooth shave
A guide to the ingredients in so-called 'mineral makeup'
The ingredients of moisturizers and what they do
Top Stories
Great beauty goodie suggestions
A look at pubic hair removal methods
Not all aromatherapy oils or fragranced candles are the real deal
Advertisement