Advertisement
Featured article
Beauty through the ages - the Conservative Fifties
An era of poodle skirts, halter-tops and saddle shoes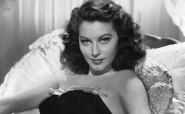 As a Baby Boomer born in 1950, I know the fashion, hairstyles, and fads of that era like the back of my hand. The 50's were ultra conservative for the most part. Women dressed like women and men dressed like men, and the unisex look had not yet hit the fashion world, thank heavens!
Fashion of the 50's was often well tailored. Girls were taught to dress like and act like a lady. Dresses were "in" as well as smartly tailored suits; blouses were made of crisp white cotton, gingham, or seersucker. While women did wear pants, they were capris or shorts and rarely trousers. They also sometimes wore jeans that were rolled up to capri length, but these were reserved only for play. Skirts were either yards and yards of fabric that swirled on the dance floor or tight pencil skirts that accented every curve of a woman's body.
The desired shape of the era was the hour-glass curvy figure of movie stars like Marilyn Monroe, Grace Kelly, and Ava Gardner. Women of that age thought that their only choice in life was to catch a husband, settle down, and have children. To accomplish that, they were taught to dress to allure; accenting all of the positives while downplaying any negatives. Accomplishing that movie star look wasn't easy, requiring a lot of undergarment support - few women of the 50's went out without their girdle holding in their stomachs and whittling away their waists. Petticoats were also important for those swing skirts; women rightly thought that the wider the skirts were, the smaller the waist appeared.
article continued
Advertisement
Dresses were worn day and night, all year around. Some resembled a long shirt; hence the name shirtdress, while others wrapped tightly around the body to accent those newly acquired curves. Some featured wide skirts and others were narrow. Summer dresses were often sleeveless or done halter style. During the remainder of the year, this key fashion piece featured all different types of sleeves from a short, puff style to a mid-length cuff to a long body-hugging sleeve that ended exactly at the wrist. Wide collars helped to soften severely tailored lines, "Peter Pan" collars complemented a more demure look, and shirt collars were part of a more masculine style. Dresses worn out of the house were also often accompanied by a jacket, which might be short and cropped - a look perfected by Doris Day - or long and swing-like, a style enjoyed by Lana Turner.
Since pants weren't yet a staple in a woman's wardrobe, women who didn't want to wear dresses opted for skirts and blouses. The 50's were the era of the poodle skirt; a swing skirt that always had a poodle applique. But, while these type of skirts are most associated with the 50's, they were not the only skirts of the era. Flared, pleated skirts were also popular, as were pencil skirts. Pleated skirts came in all shapes and sizes of pleating, most ending around the knee or slightly below it. Pencil skirts, on the other hand, were generally highly tailored to accent a woman's curves; clinging in all of the right places. They were also a bit longer in length, often landing about mid-calf or slightly lower.
Blouses, like dresses, came in a variety of styles with varying collars and sleeves. Some were draped to bring femininity to a woman's look. Others were crisp and clean to present a "no nonsense" style. Sleeves ran the gamut from no sleeves at all to puffy short sleeves, rolled up shirtsleeves, a softer kimono look, or tight long sleeves. The only requirements were that they were feminine and could be worn either alone or under a suit jacket.
Girls donning their poodle skirts also chose to wear saddle shoes; probably the shoe style that most characterizes footwear of the 50's. Women most often chose a spike heel because it was designed to bring attention to one of a woman's best features - her legs. Flats were also worn, however; they were considered a mainstay when wearing capris. The ballet slipper also made its first appearance. However, they were generally worn with socks, as were Mary Janes.
There was an unwritten rule in the 50's. No one ever went out looking sloppy. Women did not go to the store in their pajamas or sweats (which weren't even a part of the fashion of the day). Neither did they go out unless their hair and makeup looked absolutely perfect. Women equated a polished look to being a lady, and women of that era were always, always ladies!
Fad fashions of the 50's included coveralls, capris, short shorts, halter-tops, and the sailor look. Swimwear, although a bit more risqué than earlier years, was still Victorian compared to what you see on the beach today. Even the first two-piece suits that made an appearance in the late 50's always covered the belly button. Hawaiian prints became popular after the state's addition to the Union in 1959.
Accessories of the 50's remained true to the overall ladylike look. Women wore gloves quite often, especially when they were going out to lunch with their friends or on the town with their husbands. Gloves came in many different lengths and lots of colors, and every woman owned at least one pair of short, white gloves. Scarves were another staple and they were not just worn around the hair. They were tied around the waist like a belt, turned into a halter-top under a suit, and tied around a ponytail. Hats were also quite common, especially among women aged 30 and over. The pillbox hat was a mainstay, but garden and wide-brimmed hats as well as couture shapes were also popular. Hats were even a part of play. Women never went swimming without a bathing cap. Men's fashion was not nearly as interesting. Most workplaces of the day required a suit in navy, dark brown, charcoal, or black. Shirts were almost always white and featured button-downed collars and French cuffs with cufflinks.
The younger males who were into rebellion began to change the look in the late 50's. Think of the Fonz on television's "Happy Days" or James Dean in "Rebel Without A Cause." But this white tee shirt under a black leather motorcycle jacket was not mainstream and wouldn't really become popular until the 60's. Most mainstream male youth were dressed in a style that today we call the "preppy" look. Cardigan sweaters were important, especially for those young men who "lettered" in a sport at their school. For them, dressing down was nothing more than letting their shirt tails hang out on their button-down shirts; or perhaps rolling up their long sleeves to the elbow. That was pretty much as wild as it got. Stylish men of the era also wore hats; the fedora was the most popular style but by no means the only type of hat worn.
The hairstyles of the 50's were memorable as well. Women wore their hair in soft, curly or wavy styles that were usually short to just below the shoulders. Straight hair was not fashionable and few women wanted to entertain that look. Younger women often wore their hair in a ponytail while older women sometimes opted for an elegant updo.
To get the soft look they wanted, women pin curled or rolled their hair every night. After all, the hairdryer wasn't yet a mainstay in every woman's home. Permanents became popular so that women could get their hair to hold the style longer. Home perms suddenly became all the rage and "Toni" became a household name.
Men wore close-cropped haircuts that might or might not be long in front. Flat tops became an alternative from standard men styles. The "bad" boys, of course, tried out the new ducktail style that would carry into the 60's.
Makeup continued to be important to a 50's woman who sought that "peaches and cream" complexion. The focus was on flawless looking skin rather than a rosy cheek or smoky eyes. In fact blush was usually minimal and was almost always a tint that would look very natural. A lot of women went without eye shadow. Even those that chose to wear it opted for lighter colors, carefully applied to look as natural as possible. Eyebrows were plucked to be narrow and bit on the sparse side. For a more dramatic evening look, eyeliner might be applied on the upper lid. Lipsticks were mostly pastel in color during the day but might go bright red for the evening.
While many today might think that the 50's look was too restrictive, it definitely defined the "feeling" of the time. Men and women alike treasured femininity during that era and fashion reflected that trend. Frankly, I would love to see a bit of the 50's style return today. Perhaps it would encourage young women to better respect their sex and themselves as individual women. The one thing you can say about the 50's woman is that she knew who she was and she was proud of it. We can't often say that in today's world, which is just a shame.
Related Articles:
Related articles
Campaigners protest against Burberry's use of fur on the catwalk
From jeggings to boot-cut
A period of corsets and petticoats galore!
Top Stories
Creams for eye puffiness, wrinkles, fine lines and the rest
A long-wearing lipstick that doesn't dry out or crack
A look at tattooing throughout the ages
Advertisement