Advertisement
Featured article
Body slimmers - a guide
find out which body slimmer is best for you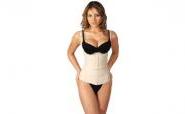 To some women, today's new body slimmers seem like a return to the dark ages, but this attitude is mistaken. While it is true that some slimmers still flatten the tummy like the girdles of old, others accomplish the task without all the discomfort grandmother use to experience.
Additionally, modern body slimmers aren't just relegated to the stomach and upper thighs; they may include the entire torso, the arms and the legs as well. Today there is something available to suit just about any woman's need.
Today's fabrications are designed to smooth out the edges by removing any unwanted bulges, redistributing body weight evenly to give a slimmer appearance and allow clothes to fit the way that they should - and modern slimmers manage do it without telegraphing to the world "body slimmer on board!"
article continued
Advertisement
Because the new body slimmers are a little more expensive than yesterday's option, it is important to choose the right one going in. To accomplish that, a woman has to thoughtfully and truthfully review her own body flaws. She also must decide what she wants the slimmer to achieve on her behalf. There are body slimmers that work on just about every area of the body and they come in various formats, which we'll look at now:
A body cami may or may not cover the bust area. While some women want slight compression across the bust, others do not, so two basic styles are available. One type of body cami covers from bust to mid torso or longer, while the other starts under the bust. The second option is more comfortable than the first, and women with a larger bust also find that the former changes their breast shape too much, making it evident they are wearing the garment.
Full torso slimmers usually come with a built-in bra. They cover the area from bust downward. However, full torso slimmers are difficult to locate and can be extremely expensive.
Panty slimmers are meant to target the lower torso, stomach and buttocks. High waist panty slimmers offer extra support around the midriff and are ideal for women seeking to eliminate the dreaded "love handles." However, panty slimmers come in a variety of cuts. They usually include a standard panty, boy short, or long-line briefs. The standard panty slimmer mainly targets the tummy area, while the boy short slimmer may also offer a bit of lift for a sagging derriere. Long-line briefs can extend down the thigh as far as mid-calf or to all the way to the ankle, providing complete compression throughout the lower half of the body. These are recommended for women with severe cellulite issues who want to make all their lumps and bumps disappear.
Slip slimmers are exactly what the name implies. They work like a standard slip underneath a dress, except that they also provide slimming support in many of the same areas as torso, cami and panty slimmers. They also smooth out unwanted bulges.
Arm slimmers are among the newest trends in body slimmers. They can be worn underneath a garment or become part of the look by applying a sleeveless tank, shirt, or dress over the top.
All body slimmers come in various compressions. Light compression provides support without a lot of actual control. Heavy compression slimmers obviously provide the most drastic results. Most women are satisfied with medium compression garments, which are the most readily available.
When shopping for a body slimmer, it is important to look for garments that can easily disappear underneath clothes, so they should have few, if any, seams. It is also important to choose a body slimmer that fits properly. Choosing one size smaller in hopes of getting more support is the wrong move - ill-fitting body slimmers will create more lumps and bumps than they eliminate. Instead, look for the right size but one that offers stronger compression.
Most body slimmers are made of cotton, nylon, spandex or some combination thereof. They are also straight forward, not providing accents or detail - after all, that isn't their purpose. However, today's manufacturers are beginning to explore sexy little extras by adding silk and lace into the mixture. Just be aware that those slimmer models will be much more expensive.
Whatever garment chosen it should be well made. The leaders in the body-slimming industry these days are Spanx and Flexees, but Yummie Tummie, Rhonda Shear, Skineez and Lip in a Box are also becoming contenders. Most of these lines carry a variety of options to choose from in different fabrications, styles and compressions.
Sadly, a good body slimmer isn't cheap. Those sold in discount department stores are largely ineffective for women who need more than light support, and a well-made body slimmer will range in price from $25 up over $100, so it's a purchase that should not be taken lightly.
Related articles
An era of poodle skirts, halter-tops and saddle shoes
Campaigners protest against Burberry's use of fur on the catwalk
Weight loss products - do any really work?
Top Stories
Comparison of different places to get a job as a beauty therapist
The Reverse Diet swaps breakfast and dinner
A moisturizer and sunless tanner combined
Advertisement