Advertisement
Featured article
Four lip liners compared
A review of four of the top lip liners on the market right now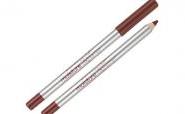 As women age, our lips get smaller. It's another one of those wonderful tricks that Mother Nature keeps in store for us when we least need or want it. Consequently, the older we get, the more likely it becomes that we will require lip liner to ensure that our lipstick looks fresh for as long as possible.
As is the case with many cosmetics, there are a lot of lip lining products on the market. Some, of course, are better than others. Let me share the knowledge I've gained so far on the liners that I have tried.
Maybelline's Moisture Extreme
My overall favorite lip liner is Maybelline's Moisture Extreme. It is advertised as a longwearing, budge-proof lip liner that comes in a variety of colors. These include bordeaux, delicate pink, hazelnut, mocha, red glamour, and rose.
article continued
Advertisement
What I like best about Moisture Extreme is that it goes on smoothly, without pulling or tugging at the already thin, delicate skin of the mouth area. The product is so creamy that it is effortless to apply. It doesn't feather into those tricky little lines around the mouth and it even helps keep the lipstick that you put on top of it from feathering as well.
Although I really didn't expect it to live up to its smear-proof advertising, this product actually honored its claim. Even after my lipstick had worn off, the delicate shade of the liner remained to make certain my lips stayed pretty all day long, no matter what I ate or drank.
Although this pencil requires sharpening, it doesn't break as easily as some of the more expensive liners that are out there. It holds up well and will very likely last until you are ready to change the color. At around $5.50 per pencil, it is worth every penny.
Maybelline's Long Lasting Lipliner
Almost as good is Maybelline's Long Lasting Lipliner. It comes in a convenient retractable pencil format. The soft kohl pencil ensures a smooth application that won't irritate the lips or feather into fine lines and wrinkles.
This lip liner is quick and easy to use, locking in color that will last for hours. I love how easily Long Lasting Lipliner blends, while leaving brilliant color in place that won't smear or fade away.
This Maybelline product comes in several colors, including bordeaux, brown, icy beige, red, rose, and rosewood. Retailing for just over $5.00, this pencil will last quite a while.
Cover Girl's Outlast Smoothwear Liner
If you aren't a big Maybelline fan, you might wish to try Cover Girl's Outlast Smoothwear Liner. These silky-soft pencils also glide smoothly across the mouth to ensure a flawless application each and every time. Because the liner is creamy soft, it won't damage the mouth's already thinning skin.
Much like Maybelline's products, this Cover Girl liner seems almost impenetrable. It coats the lip area with a long lasting color that stays and stays. And there is no need to worry that it will bleed into those tiny mouth lines.
The Outlast Smoothwear Liner comes in a retractable pencil that makes certain it is ready to use at any time, and in a wide variety of colors which includes berry, blush, burgundy, chocolate, coffee, nude, plum, raisin, rose, ruby, spice, and wine.
Outlast Smoothwear Liner retails for just under $6.00. Although it is slightly more expensive, if you are a Cover Girl fan, you might consider it worth the extra money.
Queen Collection Lasting Lip Pencil
Queen Latifah offers yet another wonderful Cover Girl lip liner called the Queen Collection Lasting Lip Pencil. It comes in the shades of burgundy, chocolate, coffee, plum, raisin, and rose. It is relatively inexpensive at around $6.00 per retractable pencil.
This liner is also silky smooth as it glides over the lips, to deposit the perfect amount of foundation product. The beautiful shades seem to caress the lips gently while providing a brilliant color barrier that will keep your lipstick in place until you are ready to remove it.
Overall verdict
All four of these lip liners are excellent. They all get five out of five stars, with a slight edge to Maybelline's Moisture Extreme; my all time fave!
Related articles
Two giants combine to produce a wonderful new foundation
A long-wearing lipstick that doesn't dry out or crack
A foundation that blends to match your skin tone
Top Stories
Products and ingredients to avoid - and embrace
Collagen has many rivals these days, this article tells you what's what
Seven things you should do to keep the weight off!
Advertisement