Advertisement
Featured article
How to cleanse skin properly
Look after your skin and it will look after you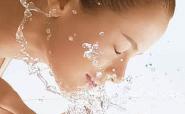 Although many women give it very little thought during their younger years, proper cleansing of facial skin is one way of keeping a youthful look into your 50's and 60's.
Just like any other organ of the human body, skin requires a certain amount of maintenance. Care, including proper cleansing, will assist in the prevention of long-term skin issues such as toughening, wrinkling or, worst of all, major illness such as skin cancer.
It is important to remember that skin serves an important purpose; it is the largest organ of the human body and provides the body with a first line of protection against the onslaught of infection. For that reason, healthy skin is crucial.
article continued
Advertisement
Here are some skin cleansing hints that work well for almost everyone.
Use warm, not hot, water for facial cleansing. Water that is too hot can damage the skin by causing dehydration. Water that isn't hot enough can cause dirt to be left behind.
Only use a gentle skin cleanser, as facial skin is more delicate than that on the rest of the body, and in some women is extremely sensitive. It's important to stay away from skin cleansers that contain caustic chemicals or ingredients that do more harm than good.
Thoroughly dampen the skin before using any kind of cleanser. Then follow the directions provided on the product label. Using too much or too little skin cleanser could be just as bad as not using it at all.
Use the fingertips to gently massage the cleanser into the skin. Use small circular motions, overlapping each circle with the one before it. Make sure to cover all of the skin on the face and let the cleanser set for the amount of time recommended.
Rinse the cleanser away with cool water. Make sure that all of the cleanser is removed. Use a soft cotton cloth if necessary to insure removal, and do not use anything abrasive.
Spray a cool water mist onto the skin to help re-hydrate it if you do not plan to tone. If you are toning, which is highly recommended, then move on to the next point.
Pre-cool skin toner before applying it to the face. You can use a store-bought toner or make one yourself at home using an essential oil like rose, perhaps diluted with water. Soak a cotton ball in the toner and then release the excess liquid. Lightly swipe the toner across the face, paying attention to the nose, chin and forehead. Let the skin dry before applying any moisturizer.
While moisturizing isn't a part of cleansing per se, it is an essential part of any good skin care regimen. Choose a moisturizer that is made specifically for your type of skin (oily, dry, normal, etc.)
Always apply a moisturizer as instructed by the product label. Use only a small amount, gently massaging it into the skin. You can always add more moisturizer if needed on certain areas of the face.
Follow-up with other skin care products or apply makeup as desired.
Facial skin requires regular cleansing at least twice a day, ideally in the morning and before bedtime. If skin is particularly dirty, consider using a microdermabrasion product or an electronic wand to deep cleanse the skin. Such products often become essential for women over the age of 40, when they truly want to get rid of dead skin cells and rejuvenate the skin beneath.
Susan Lucci's Youthful Essence provides an inexpensive but outstanding microdermabrasion product. Clarisonic makes several different styles of deep-cleansing wands. The former retails for between $30 and $50. The latter runs between $200 and $500.
Clean skin is youthful skin and youthful skin is something all women want. All it takes to get it is a little time, some patience and a sense of determination.
Related articles
How extra vitamins can make for beautiful skin and hair
Pamper those extremities!
The ingredients of moisturizers and what they do
Top Stories
Find out if foam hair colors are worth the extra money
Get both body and shine from this great new hairspray
A review of the ones to avoid!
Advertisement