Advertisement
Featured article
Five accessories to complement any outfit
Must-have accessories that will never go out of fashion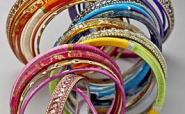 Keeping abreast of the latest fashion trends can keep you on your toes. There are, however, accessories that can transition from one season to the next without missing a step. These essentials effortlessly transition from casual Fridays to cocktail parties. For a fashionable pick-me-up for any outfit, add these five must-have accessories to your wardrobe.
Bangle bracelets are incredibly versatile. Their classic round shape is traditionally designed to fit over the palm, but some are fitted with ornamental clasps. Ranging in width from ultra thin to super chunky, bangles come in a variety of materials, styles and colors. Bangles can be worn alone or in groups of two or more. Bangles can grace your wrist or stack up your forearm. Whether you choose one or twenty, bangles can be dressed up or down. Gold bangles pair nicely with a little black dress, and funky enamel hoops jazz up a casual ensemble.
Sunglasses are not just for the summer time; they are suitable for any season. The reflection of the sun off of the snow makes wintertime harder on your eyes than any other. Make the most of protecting your peepers in any weather by donning a pair of stylish shades; with so many options for ultraviolet light protection, your sunglasses can make a bold declaration or a subtle whisper. With several pairs that range from purely functional to outlandishly eye-catching, you can make a new fashion statement 365 days a year.
article continued
Advertisement
Purses are the most functional accessory and can be the most fun. Handbags are designed for many functions, so there are plenty of shapes, sizes and features from which to choose. Leather and canvas are the most popular purse materials, but you can find many bags in quilted cotton, nylon, denim or raffia. Whether you choose a handy clutch or a roomy hobo bag, your purse offers purpose and style. Not a purse girl? Fanny packs have made a surprising slash on the fashion scene, so try going hands-free.
Scarves are another accessory perfect for all seasons. Do not treat the scarf as a simple outerwear article. From silk summer neckerchiefs to woolen winter stoles, scarves add personality to any outfit. The many materials and patterns can be tied in a variety of knots, making scarves incredibly versatile. You can leave a stole draped over your shoulders or try tying a small scarf up in your hair. There are several watches that can be fitted with a wristlet scarf, as well.
Diamond studs are a classic choice for earrings. They offer a gorgeous sparkle to any ensemble and compliment any style. With screw-back posts, you run little risk of losing your precious gemstones. Your diamond earrings stay securely in place until you choose to remove them. Simulated diamonds, or cubic zirconias, offer a comparable effect for those with a smaller budget. Save money by purchasing smaller stones or simulated pieces if you prefer a large stud. Unless you visit your audiologist, no one is likely to look closely enough at your ears to tell the difference.
Related Articles:
About the Author
Holly Miller writes for Coupon Croc, where you can use Diesel discount codes to save on all the hottest accessories this season has to offer.
Holly's homepage: Coupon Croc
Related articles
Accordions, buckets, hobos and more - all you need to know
Fashion designers for the plus size woman
A time of glamor and blonde bombshells
Top Stories
How to choose the right hair styling product for you
A quick guide to the hows and whys of laser hair removal
Hair emergencies - some questions and answers
Advertisement