Advertisement
Featured article
Affordable trends for the coming winter
Stay fashionable in 2011 without breaking the bank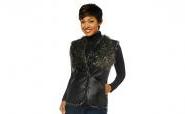 The high fashion shown on the runways each spring and fall often appear oblivious to the needs of the everyday woman. That's because fashion and clothing are really two separate things that usually bear little resemblance to one another. Still, most women, whether they are movie stars or stay at home moms, want to look good and keep up with the trends. Unfortunately, what they see in the magazines and on television doesn't detail how they can transition those high fashion looks to their frantic lifestyles.
Fabric trends
The popular runway trends for fall and winter 2011 include rich fabrics like leather, velvet, metallics and fur, luxurious fashions that will make any woman feel like a million bucks. At first glance, some of those trends might seem out of pace for carpooling moms who are busy attending soccer games or even for the woman working the boardroom, but the reality of it is they don't have to be.
Mothers are stretching budgets twice as far as they did a year ago and might not be able to afford real leather, but there are a myriad of great faux leathers available in today's marketplace. Many of them are even washable, which is important when you have little ones to juggle. QVC's in-house designer, Susan Graver, handles everything from plain colored faux leather vests to opulent croco-inspired outwear. Best of all, the cost of her garments are a mere fraction of that afforded to real leather.
article continued
Advertisement
On HSN, popular fashion designer Adrienne Landau mixes two of today's hottest fabrics - faux leather and faux fur - to make a cute cropped jacket perfect for the boardroom or for lunch with the girls. Her reversible vest, faux leather on one side and faux fur on the other, is just what the doctor ordered for those cool evening sporting events. While her garments are a bit more expensive than Graver's, many of them can stand toe to toe with today's trendiest designers without the inflated price tag.
Even local department stores are stocking up on real and faux leather this year, with prices that vary as low as $25 for Wet Seal's cute military inspired faux leather jackets and skirts. The point is there is something in the leather line, be it real or fake, that can cover just about any budget.
If a new purchase is out of the question, women can fall back on what they already have in their closets. Most will find at least a leather belt, handbag or boots that can be used to make their own personal leather statement without spending a penny.
The velvet trend comes and goes every few seasons but it has never been more popular than it is this year. From vests to shirts, skirts, pants and dresses, velvet is hot, hot hot. While some women may have disposed of their old velvet, chances are good that just as many hung on to a piece or two "just in case." It's a girl thing that transcends all boundaries. I've already pulled out my Kathie Lee velvet from a decade ago and jazzed it up with cute sequin tank tops and opulent Joan Boyce jewelry featuring pearls and rhinestones. I'm set for just about anything the holidays can send my way.
For those who can afford it, adding a velvet suit, dress, long skirt or pants will make certain they remain the center of attention at this season's holiday parties from Thanksgiving through Valentine's Day. Paired with silk or satin, velvet takes on a very expensive feel even if it did come from Kohl's Vera Wang Collection or even J.C. Penney. When it comes to velvet, the key is depth of color, texture and feel more than the need for an expensive fabric blend. If it looks rich, it will be considered rich and that is all that really counts.
Metallics also remain hot. Luckily, a lot of women already purchased something metallic when the trend began a couple of seasons ago, whether it is a metallic handbag from Tignanello, new metallic boots from Ugg, one of those hot metallic jackets from Bradley Bayou or just a metallic belt or hat, having one piece is enough to set the tone. Of course, it is all the better if the item in question happens to be gold - this year's hottest metallic color.
Even women who can't afford to purchase metallic clothing can still take part in the trend with jewelry. While gold and platinum may be out of range for most middle or lower class pocketbooks, gold or platinum clad, sterling silver or stainless steel may not be. Adding necklaces, bracelets or earrings from any of these metals is more than enough to establish this important trend in any woman's wardrobe.
Today's fur trend is nearly as important as leather and like leather it doesn't have to be real. In fact, fake fur is even hotter than the real thing and many of the biggest designers are converting. Dennis Basso is the king of outwear and his faux fur jackets are counted among the best in the world. However, they won't break the bank.
While not every woman likes or even wants to wear a lot of fur, that is hardly necessary. The real trick is to use the fabric in a way that is acceptable. No one has to wear a full-length fur coat or even one of those questionable fur vests that have become so popular. A hint of fur around the top of a boot, on a handbag or donning a cute fur hat is more than enough to keep any woman on-trend.
Color trends
Color is the one thing that women can always use to make an existing wardrobe look new and updated. This year, bold colors are crucial from hot tomato reds to deep royal purples. As winter transitions into spring, bright cobalt blues, hot pinks and yellows will join in the mix. Through both seasons, green is a "must have" color, whether it is a light and airy grass green, or a deep and mysterious forest green. However, neutrals are also on strong footing. They are more important than ever; from creamy white to mid-range taupe. The coming year will also see a major emphasis on an all-white fashion trend. While that could pose a slight problem for stay at home moms with small children, who cares when there are so many other colors to choose from? Chances are good that most women already have one or more of today's bold colors on tap.
Today's woman no longer has to be afraid to let her feminine side show. She should realize that it doesn't take away any of her God-given power. A lot of focus in fashion will be cast on prints, especially flirty florals, but other prints will be popular as well. Plaid is coming back in a big way, with many designers giving it their own unique twist. Unusual print pairings will be seen everywhere. That means women are free to mix and match existing wardrobe pieces in just about any way they want without the risk a falling out of style.
Style trends
Fall and winter 2010 is all about strong styling with belted jackets and coats, the moto cross and military looks, and a slightly futuristic feel shown through bold shoulders and strong hips. However, women are equally free to show their feminine side with ruffles and lace or short cropped shirts and jackets that reveal a bare midriff, even in the dead of winter - if they dare!
To achieve one of these important looks, all a woman has to do is use her imagination. She can add a stylish belt to an existing coat; sew military style buttons and epaulets on an existing blazer or put shoulder pads in a favorite jacket. To jack up the hips and make them bolder, layer multiple skirts together for a petticoat look.
Lingerie and pajama style dressing will grow stronger over the holiday period and as the New Year emerges. Women can pull out their satin slips and convert them to tunics or blouses. Others can update a simple satin chemise with trendy layered jewelry, classic pearls or rhinestones or big, metallic accessories.
Dresses will remain strong. Women, who don't have one yet, might want to make the investment. The best bet is always the chic little black dress (LBD). It can be dressed up or down to suit any occasion and the color is always on cue. The maxi dress isn't disappearing, although dresses of any length and style are going to be acceptable. That means there is no need for women to go out and buy anything new; they can just slip on some tights or textured hose. Don a cute pair of heels or sassy boots and they are automatically set to move from day to night.
Shorts are being transitioned from summer to fall and winter by pairing them with tights and leggings. It's even okay to go bare legged with a cute pair of leg warmers and shooties or some killer over-the-knee boots. Women can strengthen the look even more by adding a long cardigan or jacket over the top. All pants will become higher waisted, which makes it great for women who still sport those dreaded "Mom" jeans. They are finally back in style, though perhaps not in denim, which shows no sign of losing steam. In fact, almost any style of denim is hotter than a firecracker; from boot cut and flares to skintight jeggings and skinny jeans.
Think retro as 2010 moves into 2011. Specifically, think 70's retro. That fits in with the bold colors, mixed prints, love of denim and a dozen other to today's fashion trends. The budget conscious woman can shop the thrift stores and walk out with a brand new, on trend wardrobe for pennies on the dollar. What more can a woman ask?
Related articles
What to teach her and when
Some simple tips to look great fast
A time of glamor and blonde bombshells
Top Stories
The rhinoplasty facts you need to know before your first consultation
A gentle and organic granular exfoliator
Don't work that body till you've read these tips
Advertisement