Advertisement
Featured article
Jean lengths - the short and the long of it
From denim shorts to crop pants, gauchos and full-length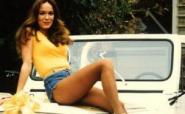 Like most casual pants, denim jeans come in various lengths. Specific styles and cuts alter somewhat along with the latest trends, but the overall definition remains basically the same. Let's take a look at the various lengths of jeans.
Denim shorts are jeans that are cut off anywhere around the derriere to just above the knee. There are different short lengths, ranging from Daisy Dukes – which barely cover the bum – to Bermuda shorts that fall at the knee.
The length of jean shorts varies from season to season. Extremely short shorts are usually reserved for young girls and teenagers. However, a few adventurous women have been known to squeeze into a skintight pair of Daisy Dukes from time to time as well.
article continued
Advertisement
The most popular short length falls three to six inches below the crotch, and skim rather than hug the body. These are typically found on women of all ages during the summer months.
Walking shorts fall a bit longer, from mid-thigh to a couple of inches above the knee, while Bermuda shorts hit just above to mid knee. They are generally a relaxed fit but not particularly loose in nature. These two short styles are most popular with women over the age of 35.
Pedal pushers, sometimes also referred to as "skimmers", are for the woman who isn't comfortable wearing shorts but still wants something other than a full jean, crop or capri. Pedal pushers typically hit just below the knee and can be tailored tightly, relaxed or loose.
Pedal pushers offer the best of all worlds. They are short enough to be comfortable in the heat and appropriately casual, and are long enough to hide many leg flaws. Because this length is cooler, pedal pushers are usually reserved for late spring through the summer when temperatures are above 75 degrees.
Capris hit just above to the mid-calf area. Like other jean styles they can be tailored to fit in a variety of different ways. The most common is somewhat body hugging without being skintight. Some capris do more than skim the body, fitting like a second skin, while others are more relaxed, bordering on being loose to nearly sloppy in nature.
This is the most popular style of jean for women over the age of 50 during warmer months. This is because they allow air to circulate around the legs while still covering a myriad of figure flaws. Because the length hits lower than shorts or pedal pushers, capris can be worn from mid-spring through early fall.
Named for the island where the pants first became popular, they were made famous by starlets in the late 50's and early 60's. One such star of note was the late, great Audrey Hepburn. She often donned capris or crop pants both on screen and in real life.
Crop pants are somewhat self-explanatory. They represent a jean cut short of full-length;, typically falling anywhere below the mid-calf area to the ankles. Although originally cut to hug the body, today's crop pants come in a variety of styles from skintight to loose-fitting.
Many people equate crop pants with television star Mary Tyler Moore, who wore them constantly while filming "The Dick Van Dyke Show" during the 60's. Some give her credit for putting this pant style on the map. However, back in those days, the length she often chose was considered capri-length. The distinction between capris and crop pants didn't come about until much later.
Gaucho pants, or culottes, come and go in fashion. The gaucho received its name from riding clothes common in Spain. This pant style was very popular in the late 60's to mid 70's and then disappeared from mainstream fashion for a while - now they are back in a big way.
Gauchos typically fall around mid-calf, but can go a bit lower. Unlike capris, however, gauchos feature a wide cut that begins at the hip and carries through to the leg opening. This gives a well-cut goucho an almost skirt like appearance that is soft and feminine. It appeals to the woman who wants a slightly dressier look and feel while still remaining cool and casual.
Full-length jeans hit just below the ankle all the way down to the ground. The length chosen depends upon the woman's height and how she intends to wear the jeans. Most women choose different jean lengths to go with different types of shoes (e.g., flats, sneakers, platforms and high heels, etc.).
Full-length jeans come in a wide variety of styles and cuts - check out my other articles on this site for more information in that area. Most jeans are specifically chosen to skim the top of the shoe, but some women prefer them to go down to the floor. It is a personal choice that varies from woman to woman.
There you have it, jean lengths, from the short to the long of it!
Related Articles:
Related articles
How to choose the jeans that look right for your body type
Fashion designers for the plus size woman
We women push size zero standards on ourselves
Top Stories
Beauty and fashion horrors of past and present
The must-know facts about abdominoplasty
A guide to the main types of essential oil as used in aromatherapy
Advertisement