Advertisement
Featured article
Working as a beauty therapist - the insider's guide
Comparison of different places to get a job as a beauty therapist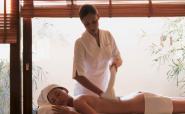 There are many opportunities available to you once you become a fully qualified beauty therapist. Some may be more appealing than others, depending on your age, work, experience, life experience and personality.
The following is a list of places where you could gain work. It is not exhaustive, but it shows you that you are not just restricted to working in a salon once qualified.
Local Beauty Salon
This offers you an easy option in terms of travel to and from work. It also gives you the opportunity to build up a regular local clientele, which in turn enables you to become a well-known member of the community. You will be trained in all the salon's products and treatment menu, including any specialist electrical machinery. Hours of work are pretty regular; normally spread over 5 of 7 days, with one or two late nights. Pay is usually a basic salary plus commission both on treatments and product sales. This is a great 'first job' after leaving beauty school.
article continued
Advertisement
High Street Beauty Salon
This gives you all the same benefits as a local beauty salon, plus the opportunity to work somewhere away from where you live and in a bustling, busy work environment. High Street salons are often, but not always, more cutting edge than smaller local salons. Hours and pay are the same as for a local salon, although it may open later on more evenings.
Day Spa
This gives the therapist the opportunity to learn more (specialised) body treatments than you would find in a traditional beauty salon and, by definition, some or many types of hydrotherapy treatments. Some day spas choose to provide these along side the basic treatments found in a salon, such as waxing, manicures…, but some choose to exclude these treatments altogether and thus offering spa treatments only. Benefits of working in a day spa environment include the specialised training needed to perform the body and hydrotherapy treatments thus gaining skills that can be transferred to any day/destination spa all over the world. There would be a mixture of both regular and transient clients. Hours and pay are similar to the above.
Destination Spa
In addition to the acquisition of the specialist skills mentioned above, this gives you the opportunity to work in a beautiful resort anywhere in the world, be it on a South Pacific Island or in the Californian desert. You would of course have to live away from home. Food and accommodation would probably be provided. Working hours may be long and unsociable. Clients may have several treatments with you over the course of their stay, but there is no real opportunity to build up a regular clientele.
Hotel
Work in a hotel, depending on its degree of luxury, may offer similar type of treatments to those of a day/destination spa, with all the resulting benefits. However do be prepared for unsociable hours as some hotels offer treatments round the clock!
Cruise Ships
Probably the most misconceived work place – it is not glamorous or laid back, that's reserved for the passengers! You will be required to work long days, often 12 hours with little break. You do get anything from 1 to 3 days off a week, usually whilst the ship is in port. Generally, you will be just performing one treatment, not the range that you would expect to work in a salon/spa, which can become very repetitive. In spite of this, you will, if you are lucky, get to visit some wonderful places in the world that you might not ordinarily get to. Also there is the potential to earn huge amounts of money if you are placed on a ship with a tipping policy. Contracts are normally 6-8 months minimum, with no holidays.
At Home
This type of work is for the self-starter only, otherwise it is all too easy to while away your time busying yourself bout the house and not actually doing any clients. You also have to be prepared to build up a client base from scratch and so will need a supplementary income, or savings, to keep you going. It can take anywhere from 6 months to 2 years to build up enough clients to make a regular income. You also have all the set-up costs, such as buying equipment, buying products, advertising, health and safety considerations, council licence fees, accountancy fees…But once set up, your running costs will be a lot lower than if you had set up a business in a shop, or rented a room. Working from home can be quite isolating so you have to be sure that you don't need the company of others to enjoy your work. Hours/days of work are totally up to you, as long as you can find clients to fill those times.
Mobile
Setting up a mobile business is very similar to working from home. The differences are that you may need specialist mobile equipment, you may have to offer a limited number of treatments, you need a good, reliable, spacious car, you may have to work at times more convenient to your clients than yourself. You also have to be extremely organised to ensure minimum travel time between clients. Often mobile therapists can charge more for the pleasure of the client not having to leave their house. Overheads are also therefore kept to a minimum.
Multidisciplinary Practice
This is more the sort of place you would work if you wanted to specialise in certain treatments. Examples include: sports massage, working alongside osteopaths and physiotherapists in a health centre,; chemical peels, working alongside nurses and surgeons in a cosmetic clinic; micropigmentation, working alongside reconstructive doctors in a clinic for breast surgery/burns patients. In this way you can become an expert in your field. It also offers you the chance to learn of other experts and bounce ideas of each other.
Rent a Room
This is a good option if you want to start your own business but don't want to take on the huge responsibility of having your own salon or you don't want to/can't work from home. You will still have overheads and it will be up to you to build up your clients base from scratch. There is however, the possibility of cross-referrals from the other people that work in the main business in the building, eg, hairdressing clients. Even though you have a captive audience you must still promote yourself to get a decent number of clients. Rent may be fixed or it may be a percentage of your takings. Often percentages are the better place to start, the less you earn, the less you pay. As you build up a regular income, fixed rent may be the better option. Renting a room offers you the chance to work independently, but with the chance to interact with other workers.
Temping
This is a great stop-gap between jobs with lots of flexibility. Essentially you are best if you have quite a bit of experience behind you as you will need to be confident, both with the continual stream of 'new' clients and having to work with different therapists, in different environments, with different products. You can either do short-term contracts, even one day only at any given salon, to longer-term stints such as three months or to cover maternity leave.
Own salon/spa
This option is also probably best taken once you have some therapeutic experience. It is also wise to have some management and business experience. Remember a brilliant therapist doesn't necessarily make a brilliant businessman! This is a huge responsibility with large overheads and a lot of initial capital is needed to set up the business. You will also have to recruit staff.
Managing a salon/spa
This is a natural progression from working as a hands-on therapist. It gives you the opportunity to learn how to run a business without spending any of your own money! You are normally paid on a basic plus commission basis and it is up to you to make the salon as profitable as possible. You may or may not actually give treatments depending on the size of the business. Your duties will probably include some or all of the follwing: reception, staff training, organising staff rotas, giving staff appraisals, creating promotions for the salon.
Teaching in a school
You will need a minimum number of years experience to work as a teacher and will almost definitely need a teaching qualification. You have the option to teach at one of the many further education colleges or at a private beauty school. There are a range of different qualifications including: NVQs, BTEC, CIBTAC, CIDESCO. You may or may not have to teach extra classes in the evenings or weekends, but mostly it is a 9-5 job plus test setting and marking. You will be required to teach both practical and theoretical aspects of beauty therapy.
Sales rep for a product company/equipment company
Prior hands-on experience is normally necessary to be a sales rep. Also experince of the product/equipment is usually required. Pay is on a basic plus commission basis and you may get other perks such as a mobile and car, particularly if you are responsible for a large area. Duties will include training therapists, either in-house or on site, in all new products/equipment/treatments, helping with salon/spa promotions, selling the product/equipment to new salons. Obviously sales is your main priority so it is essential that you feel comfortable doing this.
Beauty Editor (reviewing salons/products)
Journalistic experience/qualifications are preferred but not necessarily essential to be an editor. You will need to have an interest in the latest products/ingredients/treatments/make up. Depending on where you are writing for, you may be more focused on either professional products or high street products. Perks of the job include being sent lots of freebies and being treated to free treatments at various salons/spas.
Beauty presenter (QVC)
You will need to have impeccable presentation and also be very confident doing public speaking. Thinking on your feet would also be an essential skill as you are presenting live on TV. Theoretical knowledge of products and ingredients are skills you will have to draw on.
Related articles
The key points to consider when starting your own beauty business
Top Stories
The different facial beauty treatments you can find in a salon
Your forties are a critical time for your skin
A guide to the ingredients in so-called 'mineral makeup'
Advertisement